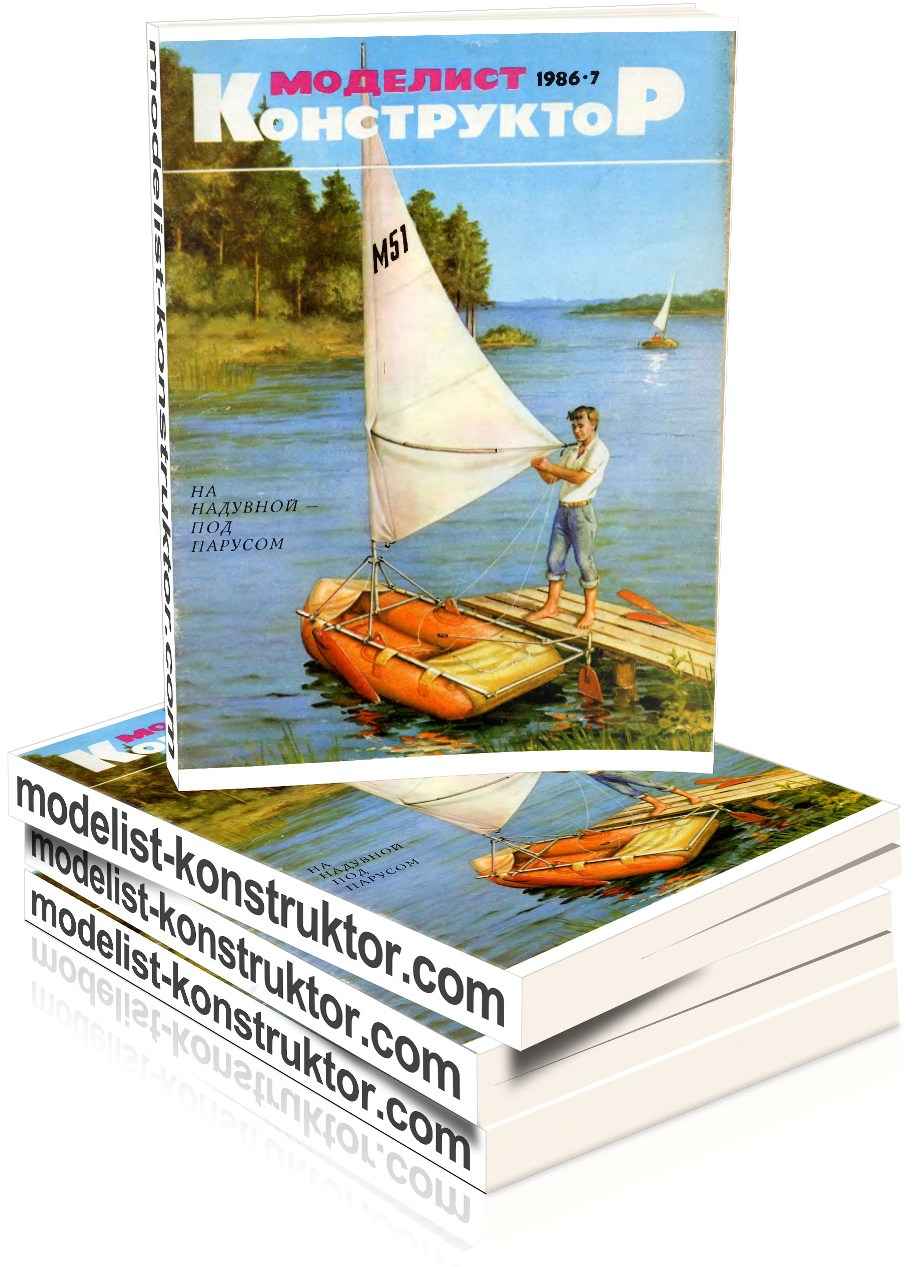 CONTENTS:
Decisions of the XXVII Congress of the CPSU – in life!: To make knowledge with the ability (1);
Komsomol units of study (4).
Small-scale mechanization: Kruglikov. Pours a membrane (5);
"Eureka" as "Frigate" (6);
V. Burtsev. Frost is not terrible (7);
M. Shklovsky. Wood Smith (7).
Public KB "M-K": V. Peregudov. Instead of oars sail (8).
Abilites "M-K": V. Kondratev. On maneuvers and in combat (13).
July 27 – the day of the Navy of the USSR: V. Communards. Chronicle of the "small hunter" (17).
Models in the world: A. Burtsev. Microrocket Ulyanovsk schoolchildren (21);
I. Nikolaev. Highway on bends (22);
A. Dara. Record holder… simplicity (24);
V. Reprev. The technology is old – the new speed (26).
Advice to the modeller: (28).
Sea collection "M-K": G. Smirnov, I. Chernikov. Boats for river battles (31).
Firm "I": I. Evstratov. Wallpaper without Wallpaper (33);
A. Shepelev. "Open sesame!" (34).
Our workshop: D. Jamirzoev. The drill becomes a machine (36).
Home stadium: Seated horizontal bar (37).
Mechanical AIDS: B. Cheremisin. Grill-"the diplomat" (38).
Tips from around the world (39).
Electronics for beginners: A. Valentinov, A. Molchanov. The key to the thyristor (40).
Devices assistants: Vladimir Evseev. Digital minitester (42).
Reader – the reader: (43).
Computer engineering: circuitry: A. Yushin. Counters (45).
Sports: (47).
COVER: 1 page – Sailboat-based inflatable boats. Fig. B. Kaplunenko; 2. – In the Saratov Cute "Sputnik". Photo by A. Artemiev; 3. – the USSR championship EN-route to automodelismo in Vorkuta. Photo by S. Kuhn; 4. – the Modern harness of the gliders. Photo By A. Chernykh.
TAB: 1st page – Abilites "M-K". The scout plane R-5. Fig. M. Petrovsky; 2. – "Small hunter" SK-065. Fig. V. Matrosov; 3. – Sea collection "M-K". Fig. V. Baryshev; 4-I p. – Club house masters. Furniture from pipes. Installation B. Nevskogo.
Modelist-KONSTRUKTOR 1986-07 PDF (download)