Children draw everything. Abstract man — "dot, dot, comma". Portrait of Pushkin, to know that you can only aspirenow the head of hair and sideburns feathers. And they carefully draw tiny circuits on tanks and ships, or fantastic purple and Magenta depict unimaginable spacecrafts. These drawings are charming. They are spontaneous and fresh. And so familiar, familiar to us the world looks with them is beautiful and updated.
That is why virtually any school, in any Palace of pioneers there are clubs and art Studio, where we deal with the development of children's talent, improve the wonderful natural gift: not only to see but also to transfer what he saw onto a white sheet of paper.
Draw and adults. In General, using the same pencil, or paints. One — paintings, the other illustrations for books, and the third advertisement for the film, and projects on various machines. And these last — artists-designers, full-fledged co-designers rapid jets and elegant cars, computers, mysterious and elegant appliances. Everyone sees: things that surround us, become year by year more beautiful, more comfortable. This is the work of designers. Design — industrial design — is now increasingly part of our lives. It is the need of time, the need of the era of the technological revolution. Requirements of technical aesthetics now planned with the release of new products.
To meet these challenges, we need excellent professionals, qualified personnel. Already today, they require tens of thousands. There are very few schools where they teach "design". There is a faculty in the Moscow art-industrial school (b. Stroganov) and some others.
Maybe we should start earlier? At school, in the Palace of pioneers or stations, clubs of young technicians? This question has positive answer.
Last summer the all-Russian and all-Union meeting of young rationalizers and engineers much has been said about the pioneering design. There was a special section of the exhibition. There were many interesting reports and speeches. The boys and their leaders accountable. And the results were pleasing, encouraging. Design young as a new direction, as the new farm technical creativity expands its reach, attracts more and more boys and girls.
Already in many cities of our country there are groups to governmental designers. Today our story about one of them.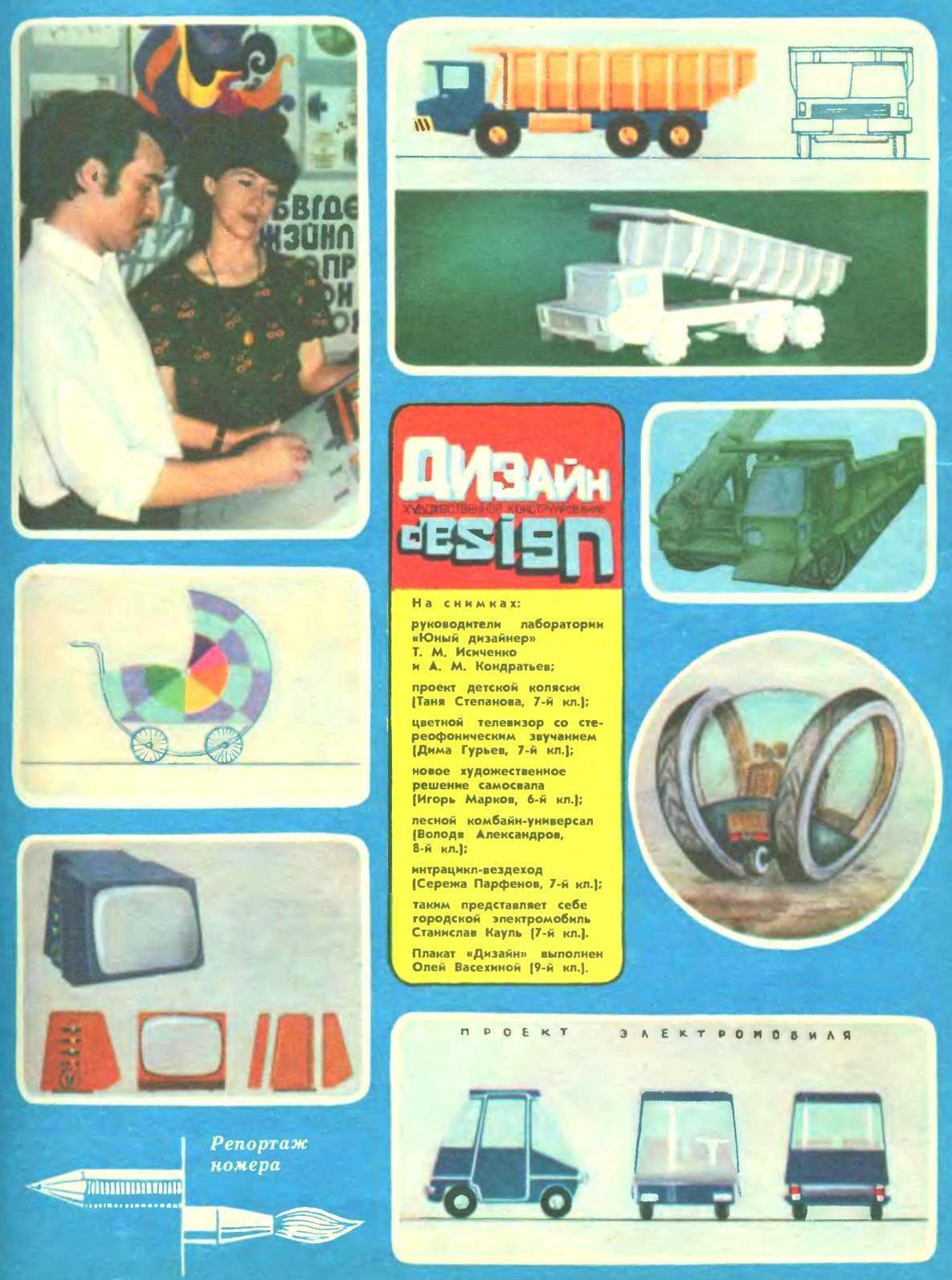 The fifth year has a laboratory of young designers at the Central station of young technicians of the RSFSR in Moscow. Supervise young artists-designers Tatiana Isichenko and Alexander Kondratyev. Maybe because they are young maybe because they are pioneers, but most likely because they love their job, in their children, they managed to create in my classes the atmosphere in the long creativity, to teach their Pets to look at the world differently, to find new, to embody their ideas in specific projects and models.
The principle of operation in a mug — individual plan. Everyone has a wide scope for selection. Want to create a new bus, please interested in home — paint bright, comfortable home, dream of aviation — unprecedented design-a supersonic aircraft. And aperture it is necessary to calculate properly explain his technical characteristics, to justify the plan. In this feature of the design profession that emerged at the junction of the profession of artist and designer. And guys learn professional basics, comprehend the wisdom skill.
There is such a form of learning in the laboratory. So Isichenko and A. Kondratyev from time to time conduct lessons on traditional genres of art — painting and drawing. Paper leaves there are landscapes, still lifes, and portraits. This gives you the opportunity to briefly depart from the rational, calibrated dry project, to dream with multicolor palette.
With years accumulated the guys have the experience, skill. Especially clearly it is possible to trace in the exhibitions, which reports the laboratory at the end of the school year.
Earlier this summer the House of children's books young designers opened its third exhibition. Selected the best works (there were 43 people; and for comparison: first — 12, second 22), that invented and designed the interior, hanging and arranging their work. Taken together, they clearly show whether, as wide and varied topics of infantile projects, what types of art and design activities they are interested in.
Naturally, a large part is devoted to the creation of new original cars (as the laboratory exists at the Central station of young technicians). Especially a lot of vehicles very wide application. Here and a truck for the village, fit for various agricultural activities. Powerful truck, who probably would have liked the builders of BAM. The refrigerator is not worse than those that ply between the USSR and Bulgaria, bringing to us the first fruits, and vegetables. Very interesting country-trailer — a small but comfortable Double city car — its Creator considered everything: the capabilities of modern materials — hence the huge spherical windshield and the dimensions of the cars on our streets, there are more and hence the small car to slip in the traffic is lighter and Parking easier to find.
A lot of developments related to consumer goods: an unusual form handset on hook, mischievous, like a multicolored ball, baby stroller, compact, color TV, Flirty shades and even candy wrappers (who-who, and the guys know better than anyone what they should be!).
There at the exhibition and artfully shaped of paper three-dimensional model: complex configuration dump, relief poster "Young designer" and much more.
Adorn the exhibition bright, eye-catching posters. Interesting exercises guys in font and ori. mental compositions.
It is difficult even to list everything that showed young designers in its rich exposition. In General, how many guys, so many ideas.
How successful was the exhibition number of entries in the guestbook. Here and warm words of gratitude addressed to the leaders of the laboratory and the performance of the boys, making their first but firm steps in the art of the design. And though not all of them (take for himself the profession of the designer. The main thing is that those who went through this school, will always learn to see and appreciate beauty and will retain a need to make this beauty into everyday life.
L. STORCHEVOY