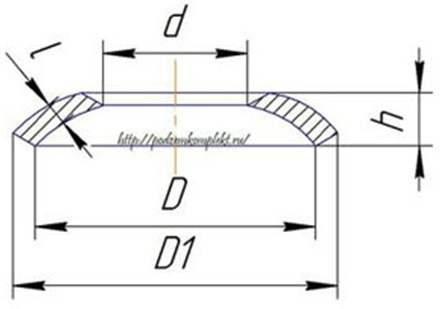 Washer spherical washer is different from the General purpose (i.e. flat) and surface form, and purpose. This fastener may be used in cases when you want to eliminate bias, the fastening of the parts during retraction. No independent use has. Used is bundled with other hardware (they may be nuts, studs, bolts). Is intended to increase the area over which the load when the coupler parts.
Production
Manufacture of products of this type is regulated by standards GOST 13438-68.
Spherical washers are made of steel grade 45 (GOST 1058-88), however, it is possible to produce steel products and other stamps, provided that the mechanical properties of such material are higher or equal to the characteristics of the grade 45.
Form SHMS (washers mounting spherical) sphere, curved inwards. Not be deemed invalid scratches, burrs, dents on the side surfaces, if such scratches and dents correspond to the limit deviations:
inner diameter d deviation not more than 0.5 mm;
the outer diameter D of not more than 0.5 mm;
the height h is not more than 0.5 mm.
The hardness of the fastener 41-45 HRC.
Designation
Common designation for mounting spherical washers – SHMS – d/h, where
d – inner diameter (corresponding to diameter of bolt);
h – thickness of the product.
The production of fasteners is to be used in conjunction with bolts 6 … 48 mm.
Electroplating is usually referred to as Chemical. OKS. PfP. The thickness of the protective film (a few µm according to GOST not specified) prevents rust, increases the strength of the fastener. Allowed production goals as with chemical oxidation, and coatings of a different type.
Application
As conical, spherical washers should be used in cases when you want to transfer the clamping force of the mating surfaces that are offset to each other. Using these products solve two problems:
1) increasing the bearing area of screws (screws) to the seat;
2) prevents the spontaneous loosening of the screw during operation of the mechanism, especially in the case of work, accompanied by constant vibration.
A spherical washer is intended for use in cases that require precise alignment of fastened components. Most often we are talking about the alignment of the parts in the rotating flywheels wheels (elements of machine tools, cars). Under the spherical washer mating parts are machined by a special groove. Installation of parts shall be accompanied by their fixation in a strictly predetermined position, which does not depend on the position of the bolts (screws).