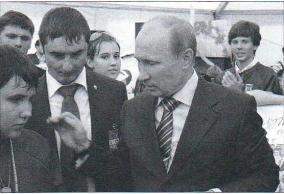 Of the ten qualified International aerospace salons in the last four involved young technology of Russia Avia – and rocket-modelers. If the first one it was the winners of all-Russian competition "Space", which was conducted by VAKO "Soyuz" (the President – the pilot-cosmonaut, hero of the Soviet Union Aleksandr Serebrov), then later -was attended by the winners of the Moscow open competition "From the screw".
The school work was exhibited in a white tent – children's pavilion, located in the Central part of the exhibition complex on the airfield in Zhukovsky. Here were presented many areas of children's creativity sent from different parts of Russia. Almost all of the work – space orientation, made in a different manner: operating models and layouts, drawings and watercolors, and crafts.
The centerpiece of the pavilion was occupied by the exposition of the eight models under the name "the Way to "East" performed by rakotomalala syut town of Elektrostal. Four students: Ilya Gaponov, Egor Krylov, Nikita Be-lebeha and Vitaly Pirogov through models made in scale 1:25 told (showed) the history of launch vehicles-the famous "seven" and the legendary "Vostok". I want to note that this exposition is one of the few that has practical value in the study of the stages of development of our space for talks and to launch models in the competition.
One day max's and children's pavilion was visited by the Prime Minister of Russia Vladimir Putin. After talking with the guys and getting familiarized with the technical projects of the pupils, he left many works, with his autograph.
V. Holguin