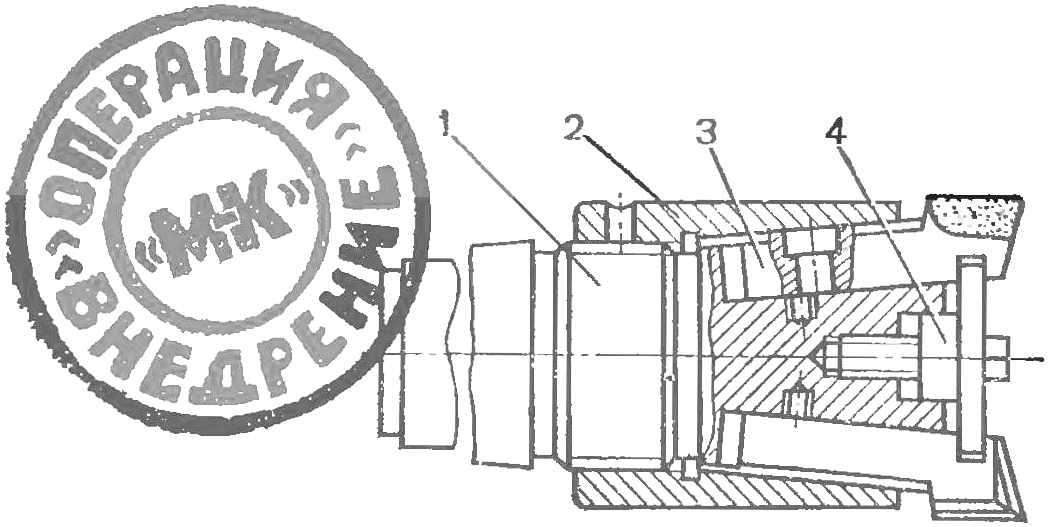 Yes, how would it work, no matter how perithecial — it does not decrease! To maintain a times a predetermined diameter with high accuracy allows her to design feature.
Depot that the cutters of the cutter "mobile": they can be displaced along the longitudinal slots carried out at a certain angle to the axis of the tool body. The extension of the cutters, and hence the increase in diameter of the cutter, is carried out by adjusting microvitum, and capturing them after you install the desired size push nut.
Adjustable cutter:
1 — tool body; 2 — clamping nut; 3 — cutter; 4 — adjusting microwind.
Mill is well established in the operations for final processing and obtaining the necessary precise dimensions of keyways, especially in large trees. Interestingly, when you work adjustable cutters beat of system "spindle — tool holder — cutter" does not affect the size of the processed groove.
The tool design proposed by innovators N. By alifanova, E. Mikityuk, and S. A. Chuprikova gulyayeva.
Recommend to read
CURLY SAW
To complete the profile of woodcarving, offer readers a "M-K" to assemble a simple machine based on the electric drill IE-1036Э with electronic regulator of frequency of rotation of the...
THE PROTRACTOR ON THE MACHINE
When machining on milling machines it is frequently necessary to install the item at a certain angle. An original device for this purpose was shown in NTTM-78 military innovators. This...