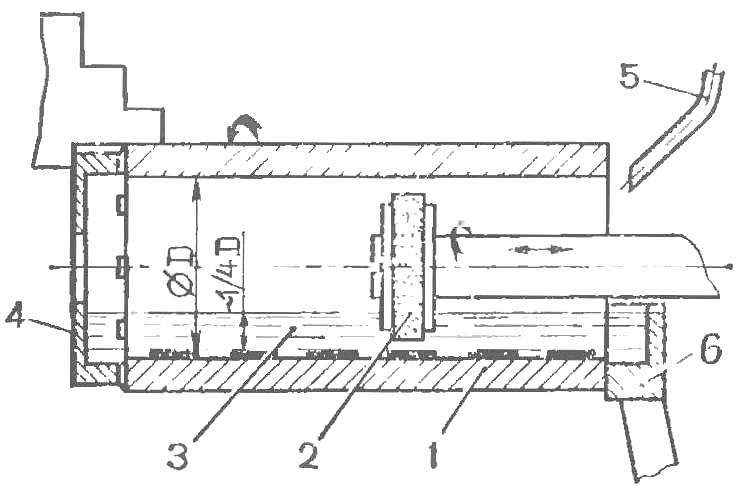 An ingenious solution processing grinding wheel internal surface of tubes or hollow parts offered innovators N. Epifanov, A. Chuprikov, Y. Shabalin.
To create abrasive for the most favorable working environment, that is, to provide him with the possibility of permanent humidification on both sides of the processed holes are introduced special plugs, forming a kind of temporary "bath" inside details for the cutting fluid (coolant). Thus it is possible to maintain the required coolant level: about a quarter of the diameter of the hole.
Grinding is shipped around:
1 — detail; 2 — range; 3 — cutting fluid (Sozh); 4, 6 — plugs; 5 — tube coolant.
The proposed method was quite simple and effective. It requires no special equipment and can be used on any
grinding station. Processing modes thanks to the "bath" of coolant and best fit the technological requirements for conducting internal grinding.
Hole machining immersed circle gives you the opportunity to clean the inner surface of the 9-10 class and accuracy not lower than 2nd class.
Recommend to read
SANDING PAD
When grinding surfaces usually use bars wrapped around or nailed sandpaper. It is impractical, often have to throw away the pieces with a wide, completely untouched edges. We offer...
DRILL WITH RADIATOR
Modern engineering makes high demands on the materials, and they, in turn, to the machining tools. Not by chance all the exhibitions NTTM necessarily demonstrates the new development of...