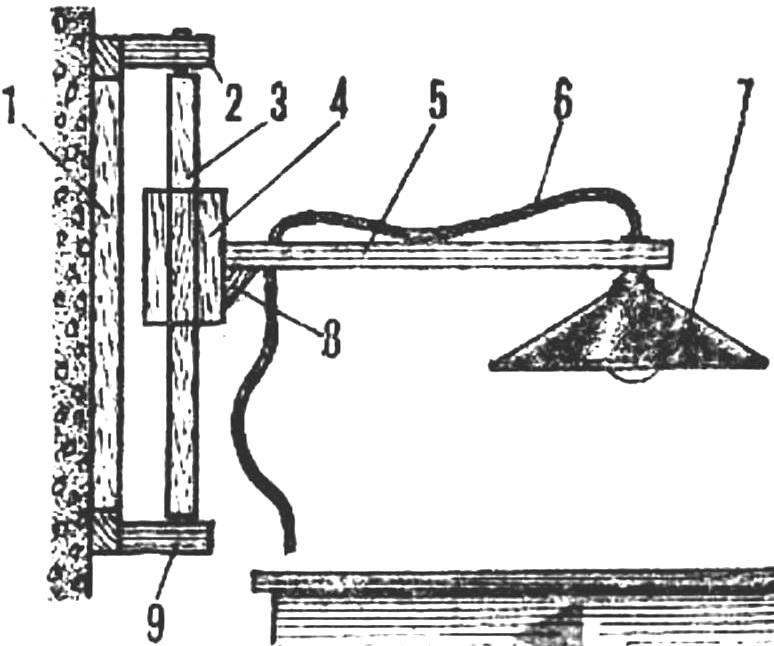 It is not always possible to place the lamps over the workbench so that they are evenly illuminated throughout its length. We offer you to make a lamp, whose position can be adjusted as necessary by moving the bracket with shade up and down and from side to side. Rather, it is the lamps, which, as he expected, suspended to the wall. The basis of his frame. Moving away from her two consoles: they are clamped to the vertical strut. On the rack moves the sliding block with bracket lamp. The cord can be clipped to the bracket by passing it through a pair of drilled holes.
The frame consists of two side rails with a length of 600 mm and one Central — 500 mm. is attached thereto a pair of cross — koi-salt 200 mm, All items have cross-section 25X25 mm. Length of the bracket may be different and limited only by the mounting in the sliding block rack: this is done in the last chisel groove where it is inserted into the glue and secured with screws. The cross section of the rails of the block and also stand 25X25 mm.
Lampshade can be made of sheet tin, turning it into a funnel shape, and then paint a bright nitroenamels. Wooden parts it is better to impregnate with linseed oil and cover it furniture varnish.