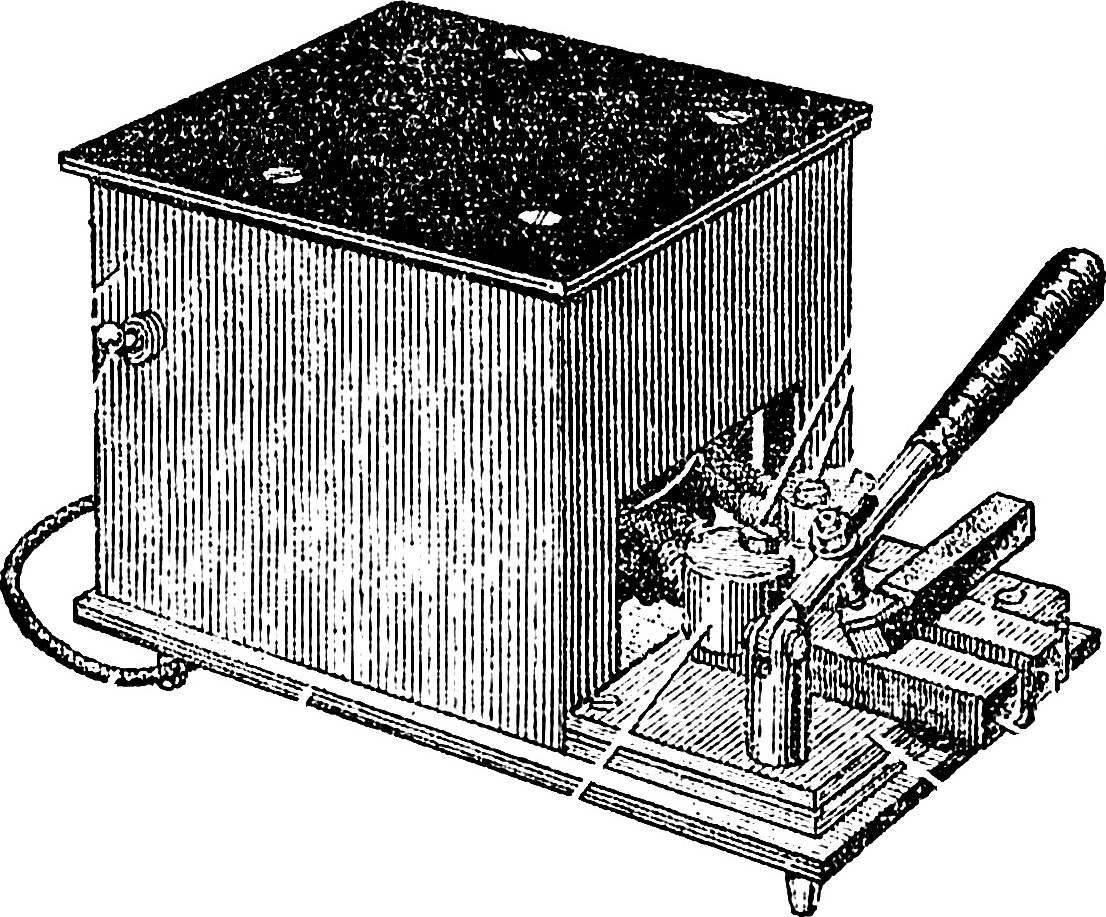 For soldering of carbide inserts on tool holders turning tools, local hardening tool, soldering brazing small parts using heating by high frequency currents or by the flame of a gas burner. However, HDTV equipment bulky and expensive, it is not for the home workshop or school group. Use the gas burner all the rules can only welder qualifications.
But there is another, almost forgotten in our time, the method of heating — contact machines. It is most acceptable in the home, school, collective farm or state farm workshop, in the technical circle.
The essence of the thermal action of electric current on the conductor. Allocated the amount of heat depends on the amount of current of time by its action on the conductor and the electrical resistance of the latter.
Taking into account this dependency we have developed a device, which is a step-down transformer whose primary winding is designed for 220 V, secondary — 2 V. the cross-sectional Area of magnetic core of about 50 cm2. The transformer is mounted on the base, and the contact of the tyres of the secondary winding — gasket-insulator.
The base unit is made of steel sheet of thickness 5 mm. from the Bottom it screwed legs. At the base are cut two Windows: less ventilation, more — for bolts contact tires on textolite an insulator thickness of 10 mm. Holes at the edges of the insulator serve to its attachment to the base.
The ends of the secondary transformer winding is wound into the holes of the clamps and fixed by bolts (grooves of the clamps allow them to deform when tightened and thereby ensure a reliable electrical contact).
The transformer is covered with a protective casing and attached to the base corners 25X25 mm To one of the upper corners screwed insulating pad for wire connection of the primary wrap. with feeding cable and switch apparatus.
Since Amateur designers do not often have all the necessary to repeat the described handmade, we recommend you to start manufacturing unit with the selection of the package of plates of transformer iron (preferably W-shaped), and only then to deal with the calculation of the windings.
Assume that the cross-sectional area of your magnetic core (Q=a*b) 36.8 cm2. Then the power transformer secondary winding P2 = 36,8*36,8 = 1354,2 W, and the primary P1 = 1354,2/0,95 = 1425 watts. The current I1 = 1425 watts/220 V = 6,48; I2 = 1354,2 W/2 = 677,6 A. Find the area of the cross section of the primary winding:
S1 = 6,48 A:2 A/mm2 = 3.24 mm2.
The wire diameter here
d1 = 4*3,24/3,14 = 2 mm.
The cross-sectional area of the secondary winding
S2 = 677,6 A:2 A/mm2 = 338,8 mm2,
and wire diameter
d2 = 4*338,8/3,14 = of 20.77 mm.