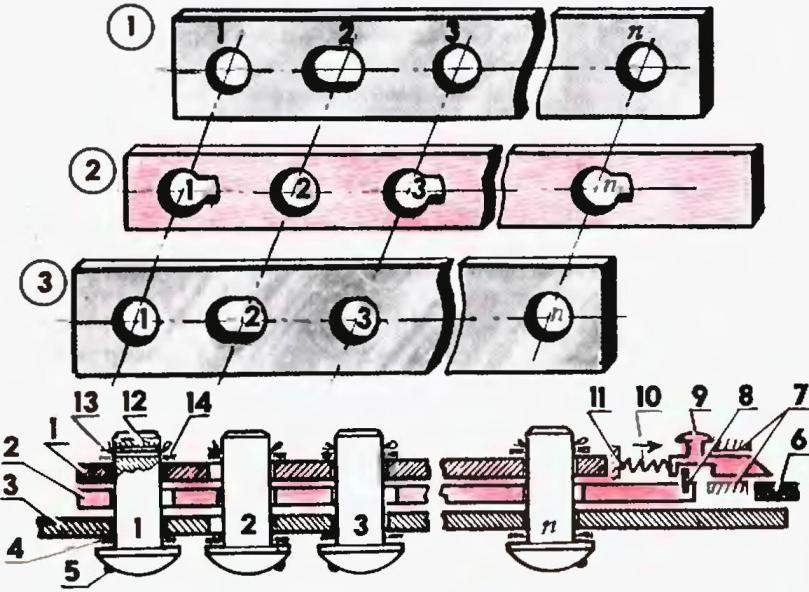 Now many sets of metal doors. But they have a vulnerability — the castle! The neighbor apparently, from hooligan promptings, it twice was severely damaged, Natalka into the bore of the nails, matches. Unable to open, had to drill out the lock. I decided to make a simple mechanical combination lock, which would be difficult to damage. The lock on the outside looks like a smooth door visible only head-knobs, which are easy to rotate, but not pressed, do not move anywhere. Form they are spherical, the surface is smooth with nothing to pick up.
The secret of the castle that once all of the handles in a fixed position of one of them, not outwardly different from others, it is necessary to move in the direction— and only then the lock will open. I shifted the handle 2, and the rest are for setup code.
The principle of operation is illustrated in figure 2. It all depends on the finger position knob in the hole. Possible different position with the openings and side slits At the coincidence code (position 1) there is a possibility of displacement of the movable plate (bolt) to the left relative to the handle. In other positions of the handle (2, 3, 4) strap handles and finger rests in different places and provide a barrier to the movement of the bolt. One of the handles (2) is false, no code, is a "key". She, like others, is free to rotate outwardly indistinguishable from them. Only when the correct position of all other pens can use it to open lock by sliding it to the side (in this case left).