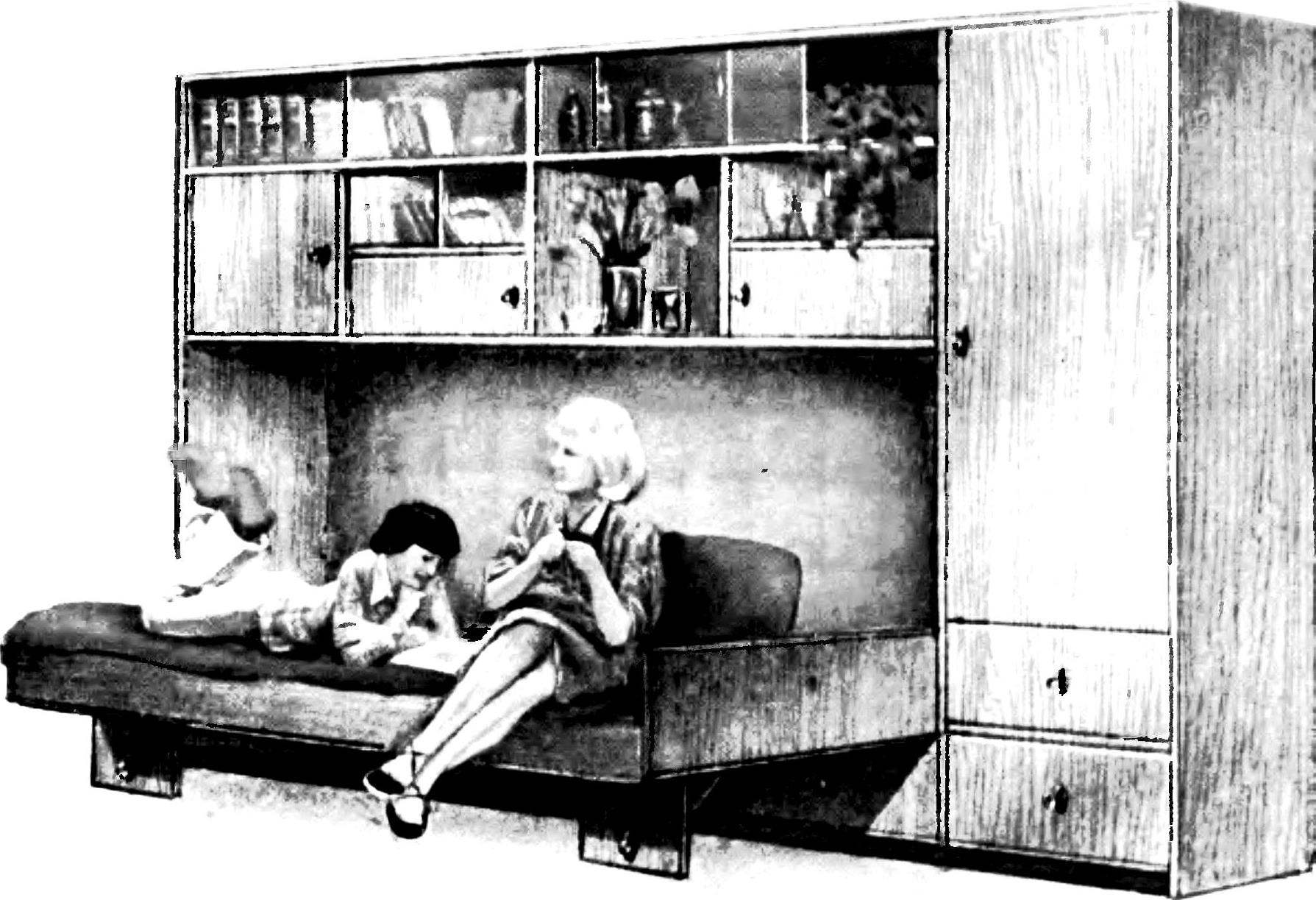 Furniture designed for small apartments or Studio sections, special requirements: along with the maximum capacity and minimum size (because in a small room, every square inch counts) it should be possible and multifunctional. Of course, this can be achieved and by preparing a set of separate cabinets, tables, shelves, mezzanines and other items purchased in the store. But then it would have to pre-spend a lot of time looking for the appropriate size elements. In addition, they will differ from each other in style and finish.
The problem can be solved, if we take the manufacture of furniture. In this case, it all depends on the skills, capabilities and imagination of home in the wizard.
Today we acquaint readers with the design of a universal panel for living room, made by doctor A. Doroshenko from the city of Gaisin Vinnitsa region.
It's a simple wall structure that combines the best of wardrobes and bookcases, bed, capacity for storage of linen, clothes, shoes, dishes, books, etc. in addition, the front panel of the folding bed has a fold-down Desk door wardrobe — mirror. In other words, one wall replace the whole set.
Thanks to their compactness, all of it is along the long wall, not taking up much space. Dimensions design 2496X1950X400 mm. In the big room, the wall can serve as a partition, dividing the room into different functional areas. In this case, it is necessary to decorate the facade and the second wall, such as plaster, washable Wallpaper or self-adhesive film (however, to choose the right finish should be in accordance with the General interior solution).
For the manufacture of the main volume of the walls is better to use furniture as they do not require additional finishing; but if not, then suitable and conventional chipboard thickness of 16 mm. In their design, you can use veneer, plastic, self-adhesive film, cloth or the artificial leather. In the present embodiment, the external surface covered with veneer, and all interior — washable Wallpaper.