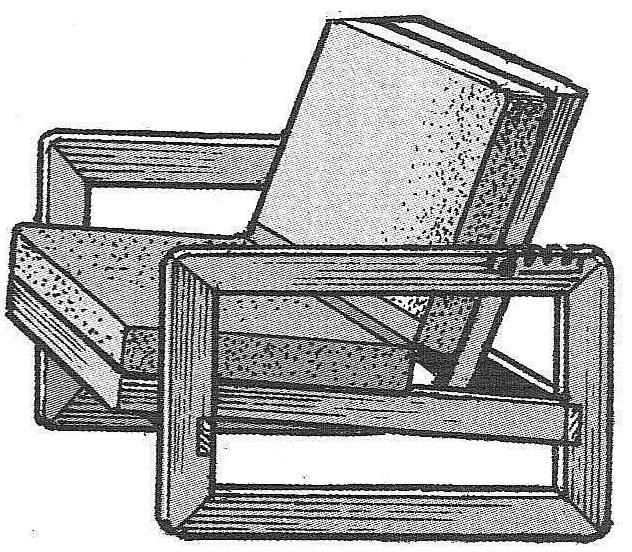 It will look good not only in the countryside but in a city apartment, featuring special convenience and originality of design (in addition, it is available for self-production). The fact that this easy chair has compared to other similar one is undoubtedly the winning advantage: the position of the backrest can be changed, giving it the most comfortable for you angle. Let us consider by what means this is achieved.
The main components
A chair is a bundle of two main components – the wooden frame and soft pillows. Both components can be produced and used independently, separately, which also provides additional facilities. From the figures it is evident that a wooden frame is placed a soft mattress, consisting of two interconnected cushions: seat and backrest.
Frame
On closer examination it is seen that the frame of the chair consists essentially of four independent frames, two side walls, the seat and backrest collected from boards in the thickness 20 mm. the first three are connected rigidly, by inserting wooden pins and screws, forming a strong design base, and the frame of the backrest attaches to the seat frame on hinges that allows you to install it quite freely, being able to change the angle (by what means – will be considered separately).
Sidewall
Essentially, their frames are simple rectangles, the horizontal part longer than vertical. They are connected to each other using nails glue (casein, wood, PVA, "Time").
In the rear part of the frames, just below the middle, there are notches for attaching the seat frame.