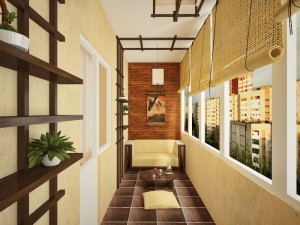 The internal covering of balcony gives the opportunity to complete the look of the room, to create comfort and functionality. If the balcony is right, you get a full living space. What better way to sheathe the balcony from the inside? There are many options, and for the most finishes can be used different methods. The material should be selected depending on the specific design, the target destination of the room and its style.
The materials for interior decoration
For facing of balconies from the inside you can use different materials. Good looking wooden wall paneling, drywall, PVC, plastic, etc. you can Also use combinations of these materials. But regardless of finish material, sheathing required to solve practical problems. Her responsibilities include the insulation of the premises and the addition of the square. It must be considered.
Drywall, as a material for the covering of balcony can be used for merging the terrace and living room. It is lightweight, does not require special skills and knowledge to install, provides insulation, incombustible and affordable in price. Those who use plastic, can create a smooth surface which will not be visible seams. This material is durable, resistant to moisture and temperature changes. He also has a low cost.
Than to sheathe the walls? Very suitable for this decorative wooden wall paneling. This material will allow to continue harmoniously the interior of the dwelling. It is environmental-friendly, easy to install, not afraid of water and does not require special care. The lining will keep you warm and to serve long and reliably.
How much is covering the balcony?
The cost of oblivi balcony depends on what types of interior finishes has been selected. Professional the covering of balconies in Kiev – is the ability to obtain high quality at an affordable price. Professional craftsmen will perform all the necessary work in a short time. Cladding can be ordered as a separate service.
The cost of works is defined here:
the kind and quality of facing materials;
a number of materials;
the balcony area and configuration.
additional parts and accessories.
For proper selection of options and finish materials should use the services of professional consultants. They will help you to create an original interior, to ensure the highest quality and reliability, thus saving the customer's money.
Recommend to read
FIGHTING TODAY AND TOMORROW
Air combat... the Popularity of this class has been and will remain unchanged. Let some say that today to do battle is not so "prestigious" — the whole world goes to RC vehicles, and...
PROTECTION FOR FEET
The soles of the feet when digging the ground, will not be so uncomfortable if the shoulders of the shovel to pull the trim rubber or plastic garden hose. During operation, the hose...