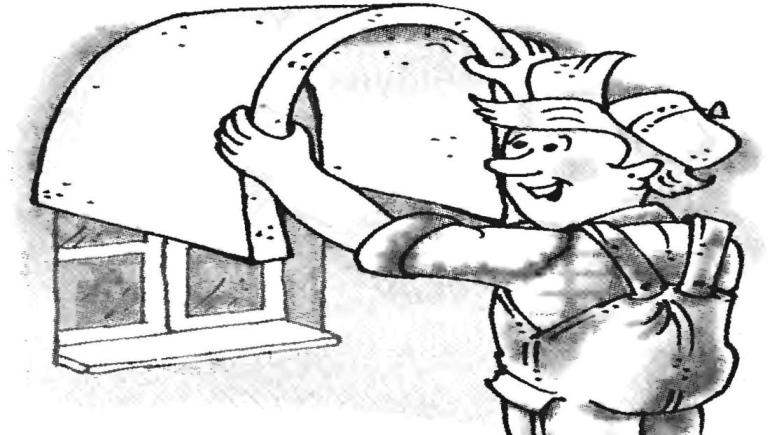 "I was interested in publication in the journal for drywall ("Favorite finishes", MK-10'09) Think that they are very useful for those who builds or repairs of the premises on their own, be it a house or an apartment. Because the material valuable for homebrew properties — ranging from a large flat surface, convenient for finishing, and finishing flame retardant. I wish the team continued the theme and described specific techniques for working with this material."
A. CHERNOV, Novosibirsk, Russia
Magic leaf
Gipsokartonnye sheets (GKL) — amazing construction and finishing material primarily because of its wide versatility: used for walls, devices, interior partitions, suspended ceilings, fire retardant designs, and also for the manufacture of decorative and sound-absorbing constructions. If you use GCR in the process of finishing works are excluded inconvenient "wet" processes, significantly increasing productivity, the opportunity to implement an unlimited plan, multiple architectural solutions, including the device of curved and arched surfaces. When using sheets of gypsum Board achieved overall savings in construction costs by facilitating the design of the building, provided by environmental friendliness, human-friendly microclimate in the room.
Manufacturing process of gypsum Board includes forming on a conveyor a continuous flat strip with a cross section of a predetermined shape (the desired thickness and type of the side edges) width 1200 mm. the Resulting sheet consists of two layers of special cardboard with a layer of gypsum dough with reinforcing additives, while the side edge strip cavalcavia edges of the cardboard (front layer). Then, after "setting" of plaster is done cutting the strip into separate sheets and is dried.
For the formation of the gypsum core is applied, which as the material has superior physical and mechanical properties. Materials based on gypsum are characterized by their ability to "breathe", i.e. absorb excess moisture and to allocate it to the environment with a lack. Gypsum is non-combustible, fire-proof material, it does not contain toxic components and has an acidity similar to the acidity of human skin. Its use has no adverse effect on the environment. To achieve the required performance gypsum core, characterizing its strength, density, etc., it adds a special ingredients that improve its performance properties.