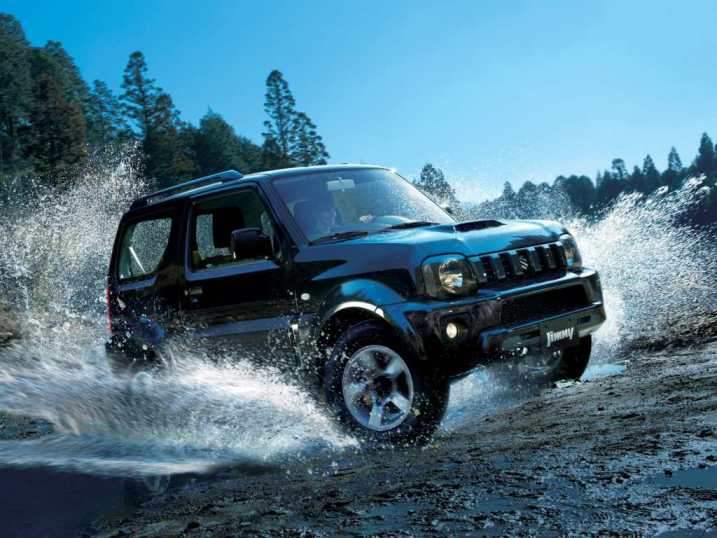 Their first SUV called the JIMNY Japanese company Suzuki has released in 1968. Utilitarian and inexpensive all-terrain vehicle was used in Japan, good demand, and the company began to improve the car, leaving intact the concept. In 1974, Suzuki has updated the JIMNY seriously, equipping it with two-stroke three-cylinder engine liquid cooling and a new, more spacious four-seater body. In 1977 vnedorozhnik equipped with a "real" four-stroke four-cylinder 41 HP engine, liquid-cooled working volume of 0.8 L.
The car has undergone a number of upgrades and in 1998 appeared a compact SUV, which successfully produced and implemented until now.
This option JIMNY first got spring suspension, which significantly improved the manageability and smoothness. Despite its compact size, the vehicle modeled a solid jeep — his body through rubber cushion mounted on a sturdy frame side members, it is with a system of springs and levers installed front and rear axles. Drive with disconnect front axle and dual high.
The design of the driver's seat is designed based on advanced ergonomic studies. The car is equipped with air conditioning and power steering. In Russia JIMNY comes with a gasoline 1.3-liter 86-horsepower engine complete with a 5-speed manual or 4-speed automatic transmission.
Suzuki JIMNY: 3625 length mm, width 1670 mm, height-1705 mm wheelbase 2250 mm ground clearance 190 mm, track front/ rear 1355/1365 mm kerb weight 1045 kg, gross weight: 1420 kg, maximum speed of 140 km/h, fuel consumption in the mixed cycle 7.8 l fuel tank capacity 40 liters
Recommend to read
'95 FORD EXPLORER
Every year in the U.S., sold to 450 thousand SUVs this model, which gives reason to talk about him as "popular" American jeep. The growing popularity of this car in Russia. The first...
GAZ-M72 Pobeda
In 1955 the designers of the Gorky automobile plant (GAZ) on the basis of units of army SUV GAZ-69 and the body has just launched a series of "Victory" GAZ-M20 has created a comfortable...