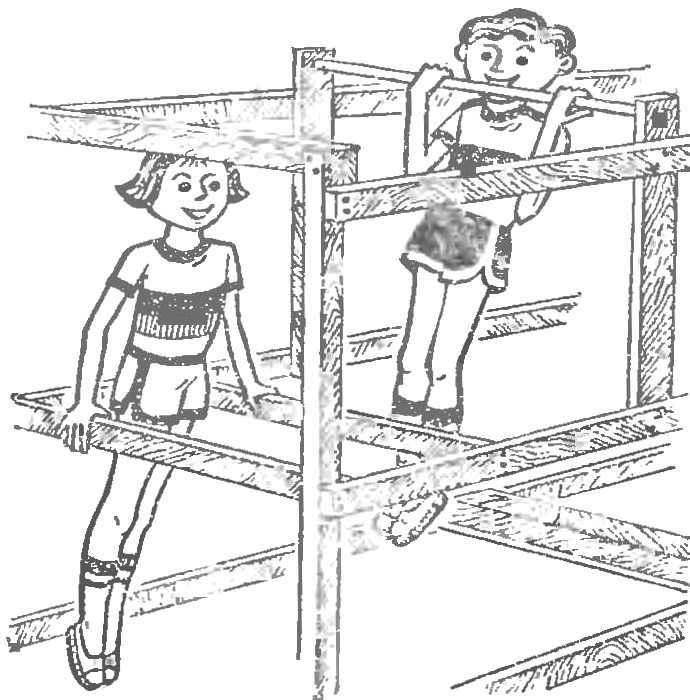 And just what sports equipment do not have modern sports fans! This traditional free weights, a barbell, an expander, and the still unfamiliar — massagers, exercise equipment, medical sensors, running tracks and all… right in the room.
But what a workout, even among such splendor, next to the open window. For those who still prefer a class outdoors, we offer design gymnastic cross-complex. It is quite simple — a wooden frame, which brings together some shells. Someone Nutsedge may have seen such systems have treadmills or on the sports field. The four main vertical posts (100x100x2400 mm) paasivaara horizontal rows of bars size 50хЮ0 mm and a length of 2400 mm (end — length 1200 mm). On a horizontal line with one edge of the frame, arrange the boards as shown in the figure, a middle — bar, strengthening for this purpose, two vertical slats (50х100Х Х1100 mm) on average n top rows.
Below, under the horizontal bar, make from double bars step on the bottom horizontal row and the hard bench at the near post. Design for sustainability will provide two cross bars with end sides, in favour of the dimensions (50х100х1900 them). And the last one of the top bars attach the eyebolt (M8). Through miss nylon twisted cord (Ø 6-8 mm) with a length of about 4500 mm; at the ends of wooden handles.