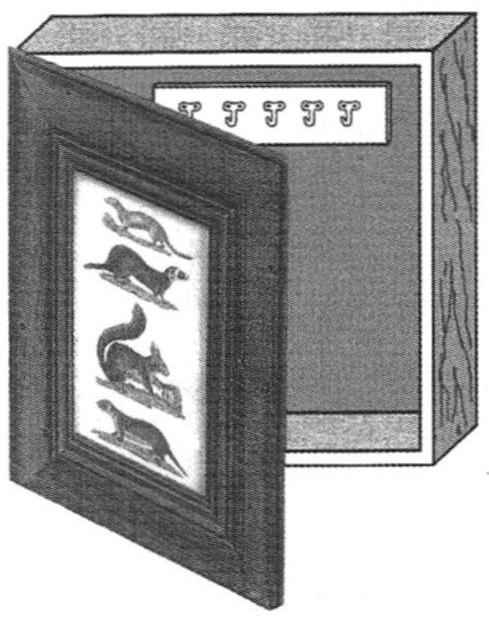 If a little old picture in a frame under glass has not found a place in the room and turned on the mezzanine – take it out and after blowing the dust, breathe new life into it: make of her housekeeper – a kind of hanger for keys. Under the picture will only need to fabricate (or find a suitable size) a simple box. On the side wall of the box to fasten the loops (or cut piano hinge): hung on the frame pattern forms a door of the housekeeper.
Design, as you can see, very simple. If the box will have to collect yourself will need the suitable size wooden Board and a small sheet of hardboard or thin plywood. The actions are the same simple as the design itself.
The hardboard should be laid with the pattern and draw out a pencil outline of her frame. Then inside the loop is indented from its lines about 30 – 40 mm plotted the second circuit, and on which the cut sheet: got the future back wall of the box. Its size will determine the length of the strips, which make up the walls of the box. Longer form two identical sides, and two shorter and also the same – upper and lower wall of the box. They all gather together on nails or screws. The resulting hollow frame of the box on the small studs holding the rear wall, and left side on the screws – hinges.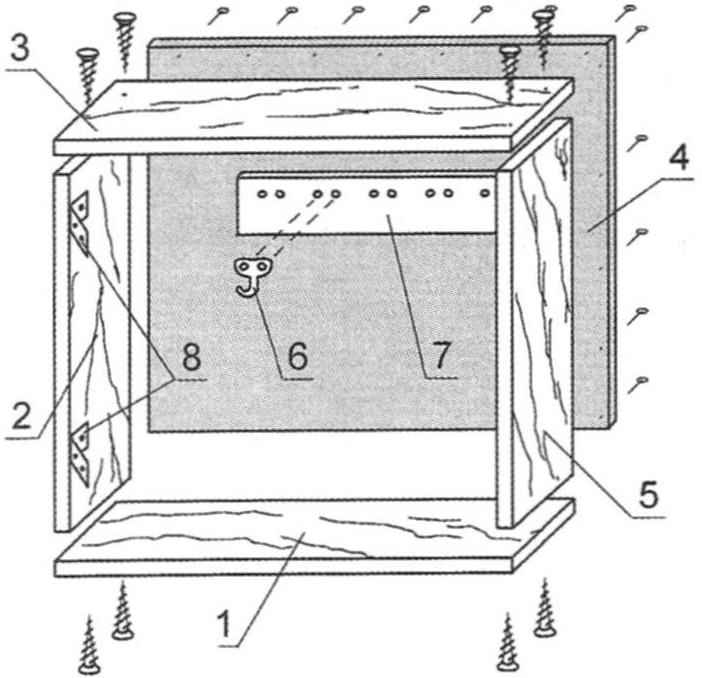 The basic elements of yashik housekeeper (the dimensions depend on the frame used for the paintings):
1,3 – upper and lower walls of the box;
2, 5 – sides;
4 back wall;
6 – furniture hook (number place);
7 – plank for hooks;
8 – loop (2 PCs.)
---
Inside the box at the top (screws on the outside of the wall) is attached a short strap, which is pre-installed a number of small furniture hooks: they will hang up the keys.
Remains hung on hinges of the frame and the housekeeper is ready. Its facade decoration does not require a decorative role is played by the painting itself. As for the box, then it can be left as it turned out, and you can further decorate the inside and outside, coloring, for example, in the brown color.
Placed in your hallway, this key holder is not only functional, keeping always at hand a set of house keys for all family members, but also quite decorative.
B. VALENTINE's
Recommend to read
THE PAINT WON'T HURT
Many decorative vases and figurines have a rough bottom, which can scratch the surfaces of polished furniture. This can be avoided by sticking to the bottom of the paper or cardboard,...
STORED WATER…
Any garden or smallholding, as a rule, gives out and pleases the owner with a sufficient quantity of water. If there is a nearby natural source or a Central water supply, the irrigation...