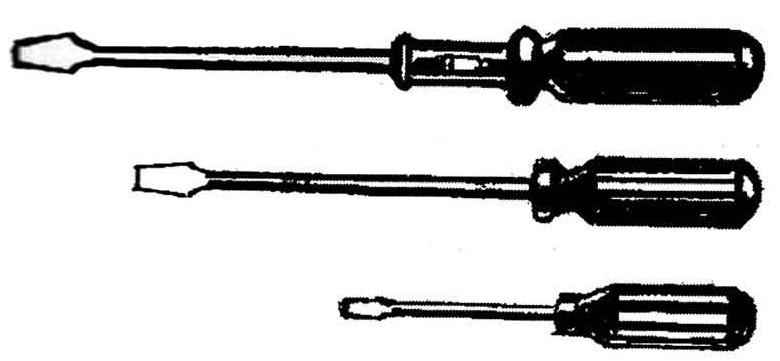 Today's "unobtrusive service", which have to apply for the small problems of household systems, effectively "bite". Even the call an electrician, technician or plumber to diagnose, not to mention the simple elimination of minor faults, is quite expensive.
Therefore, minor damage or imperfections is much better to perform on their own. But to do this at home worker should be at least the most basic set of working tools. But if the head of the family or children, there is also passion, desire something to make with your own hands, you will need an Arsenal of tools.
It's a good start to have their minimum (Fig. 1) to perform electrical work with wires, switches, chandeliers, irons, lamps, etc.. This is primarily a screwdriver (1). It is advisable to handle them was medium size, not short, with width of the working sting or blades 2, 4, 6 and 8 mm. It is necessary to add clamp (2) and wire cutters (side cutters, 3) ease of use, for example, with wires and a wire. Assistant are universal pliers (4). And very often in the home also required electric soldering machine (5) to begin a power of about 60 watts.
Fig. 1. The tool of the electrician
Good help he will serve as the tweezers (6), preferably large, so-called anatomical — it will help, for example, to keep the soldered ends of the wires. And prepare them, to release from isolation and clean up will be possible with an ordinary penknife (7).
For the subsequent a variety of works will be required and other tools.