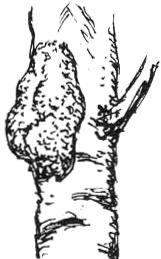 Saw a tree in the woods tinder fungus — big, beautiful, bizarre. The bottom had white and porous, the top is dark brown with yellow and reddish stripes on the edge. Sorry to leave such a handsome man in the woods. Gently separated him from the tree, put in the package. Home dried, aligned with the saw sidewall-base, drilled a hole under the wire. Screws attached metal eyelet — for attachment of the fungus to the wall, convex side up. Painted it white with latex paint, top coated with varnish.
Stainless wire made a hook with a nut on the end of a chain of eight links. The store picked up the lampshade-diffuser in the form of a flower. From old chandeliers took the cartridge with a ring for fastening the glass and the cartridge holder. Glued plastic "remote control" — a small box, strengthened in the push-button switch: one include full light, others dim (via a diode) TV.
The electrical circuit of the lamp from tinder:
1 —plug; 2—a two-button switch; 3—cord; 4 — eyelet for hanging; 5 — tinder fungus; 6—hook; 7 chain; 8 — electroputere; 9 — interior light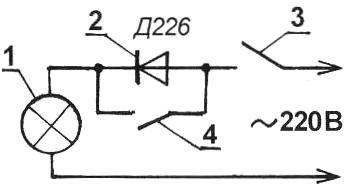 Diagram of lamp:
1 — elekricheskie lamp; 2 — diode D226; 3, 4 — pushbutton switches 220 V
All parts are joined, and turned out the lamp hanging on a chain to the mushroom. The lamp is mounted at a sofa or chair, where it is convenient to read or watch TV.
Such a lamp, I think, can brighten up any room thanks to its originality.
MARTYNOV, Vitebsk, Belarus
Recommend to read
SEEDER-DORADCA
On private land, perhaps only a decorative grass — raygrass — tracking, scattering the seeds. The vast majority of annual flowers and vegetables planted in rows: so the plants are easier...
CONVERTIBLE "TOURIST"
Homemade car "Tourist", designed by V. Golovchenko from the city of Tashkent, has good proportions, clean lines. Great help, the author notes, had a publication in our magazine about the...