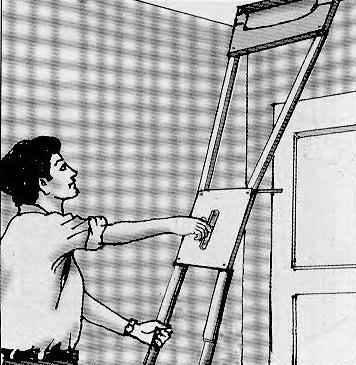 Of course, easier to repair in the apartment with an assistant. However, one who has experience with Wallpaper, knows, folding smeared adhesive Wallpaper in a certain way, you can cope alone, would have been only a ladder. However, it is only papering the walls. And now often, and the ceiling whitewashed, and paste over Here too without an assistant to do difficult.
Though, according to the Hungarian magazine", Earmaster" and here savvy people find a way out. One of them is the use of unusual nozzles on a metal ladder. Its task is not just to extend the ladder, and just replace the absent assistant at pasting of ceilings. While one end of the ceiling Wallpaper is glued, the rest of the cloth is supported by the nozzle, giving the opportunity to single-handedly perform such a difficult job.
Device nozzle
The base fixtures — wooden bruski section 40×20 mm, the length of which depends on the height of your ladder and the distance from the ceiling in the apartment. At the top of the bars are connected by a cross member (plank or plywood), and above it on the ends of the bars from the external side are brackets of metal plates between which is inserted the platen, pivotally mounted with screws through the holes in the brackets. The cushion can be made of a wooden handle (like a spade) with a diameter of 25 mm. Length of the cushion as the tie bar, about 600 mm.