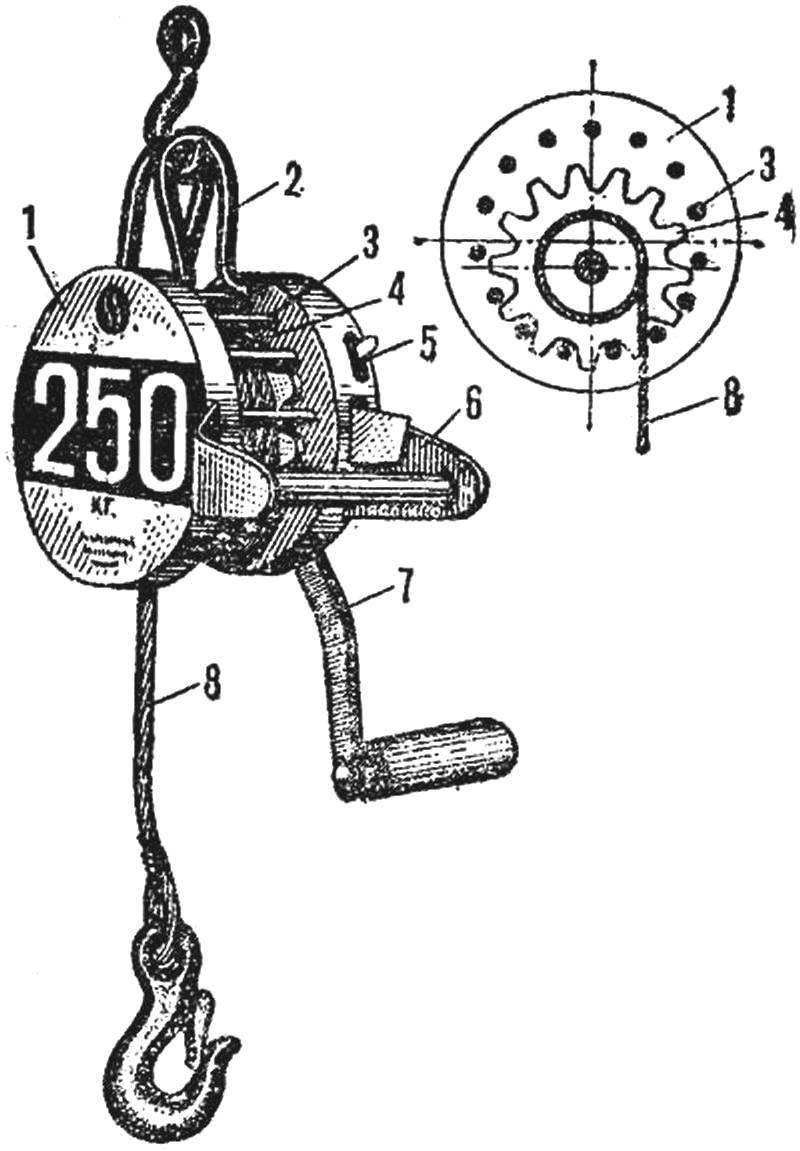 A huge family of various lifting devices — from the powerful gantry and tower cranes to simple pulley— added another accessory device, designed by the innovators of the scientific production Association "Rhythm". It's a small winch that differs from similar mechanisms limit the portability and at the same time, a considerable load capacity.
Indeed, to raise it even a child can: Oka weighs just 3.5 lbs. And the force ka of the handle when lifting a load requires a minimum — only 9 kgs. However, the hook easily held the weight of a quarter ton.
Winch-baby:
1 — body, 2 — loop for hanging, 3 — Tarsus — coupling of the cheeks of the hull, 4 — drum with serrated flange, 5 — disconnector ratchet, 6 — handle, 7 — drive arm, 8 — rope with hook.
Such characteristics of the mechanism achieved through maximum simplification and witty design decision — one combining the parts of different functions. Winch case consists of two disks-of the cheeks, fastened with zip ties, whose role is performed by the nozzles, and together they are the leading toothed wheel. The bearing cheeks freely rotates drive shaft with the handle and the drive sprocket with chain. The eccentric neck shaft is simultaneously the axis of the drum carrying the rope with a hook on the end. Flange of the drum also serve a second function — guest stars: their recesses they are engaged with the nozzles of the housing, passing the drum torque. On the winch there is also a loop for hanging and handle for additional retention mechanism during operation.
This portable lifting device will be indispensable for the installation of various equipment in cramped conditions, installation of heavy parts and assemblies of machinery on the Assembly or during repair. The effectiveness of the winch speaks volumes of the annual savings derived from the implementation — more than 13 thousand rubles. in addition to the mechanization of lifting transport works, compact winch may also be used, for example, for stretching wire, pulling on the shore of motor boats, pulling cables, pulling cars and other law enforcement operations.
Recommend to read
"LANE! VIRA!"
In the old humorous song about children's aptitudes and interests it was argued that if girls are made of bows, wrappers and ropes, boys, from screws, bolts and gelecek.   In...
EQUIP THE BATHROOM
The majority of faucets for bathrooms are completed with shower head with flexible rank. On request it is secured in a bracket or held in the hands. To use such a shower will be much...