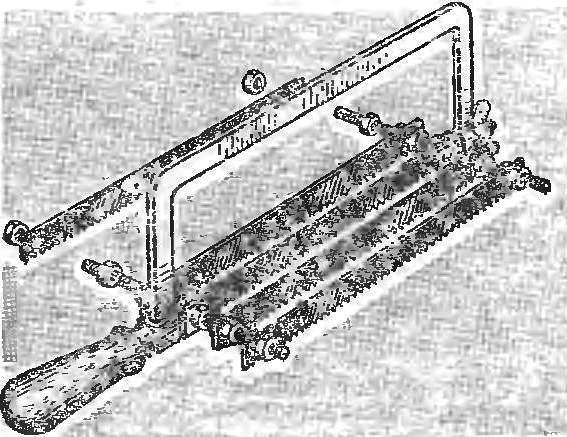 Definitely interesting clue is given in No. 2, 1982, in the article "Handsaw — a universal tool" to fix on one drank the landlord several Polota. Want to offer a design that allows to change the distance between the blades. To do this, make two threaded rod-holder, fixed on the ends of the hacksaw. It remains to screw them into the nuts-limiters; sequentially inserting and fixing the saw blades, will get a "multicore" with a hacksaw, three or five simultaneous cuts.
V. SESNY, Kherson
Recommend to read
HOW TO SHORTEN THE BOLT
To shorten a long bolt or stud, such a task is not so rare encounter tinkerers. In order not to damage the grip of the thread, I suggest to use a simple tool, which is a metal strip 5-10...
HELPS BRACE
To tightly connect the screws the two boards, you need to use the brace. From a set of versatile screwdriver select the appropriate tip and insert into the rotation in place of the...