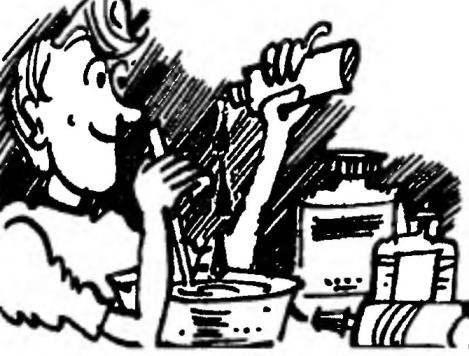 In practice household has long been used sealing paste, called "Mendeleev putty": it is usually sealed joints frame and the glass walls of aquariums. This sealant around the plastic at a temperature above +45°C and after the solidification crack. And although it is diluted many organic solvents, softening him better not by them but by heating.
The composition of "putty Mendeleev" is quite simple (table 1). By varying the ratio of rosin, beeswax and linseed oil, can a sealant to obtain different plasticity.
Prepared "putty Mendeleev" in the following way. Wax is melted in a metal (but not tinned!) the dishes on the small fire, better in a water bath and while stirring is added to the crushed resin, and after the disappearance of foam — sifted mummy (or ochre).
Heated peremeshivanie continued until a homogeneous mass. Only after that the melt is introduced linseed oil (or linseed oil), the amount of which mainly depends on the hardness of the finished pasta. The process stops after the disappearance of foam, and putty is bottled ready for storage in paper forms. While using sealant is heated and applied to the product in a pasty state.