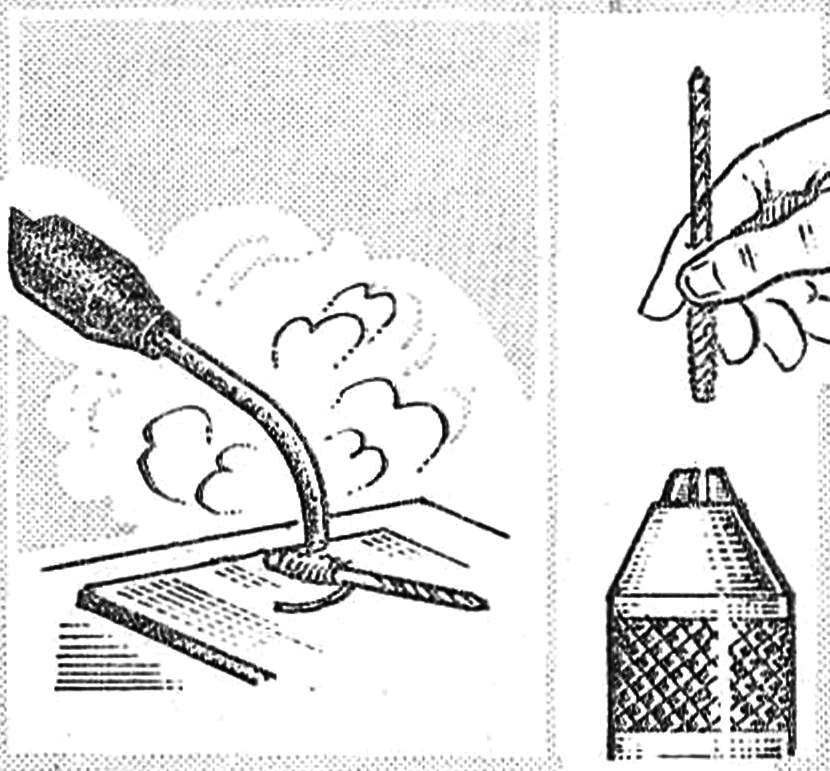 In the "M-K" № 9, 1985 our reader Yuri Zhdanov recommended for clamping in the Chuck of a drill of small diameter to apply the "shirt" is a spiral of thin wire. However, a hand drill and a machine with reverse accidental change of the direction of rotation can lead to the fact that the spiral will develop. So I suggest a small improvement.&the Shank should first be sbiaditi in the so-called "soldering acid" (hydrochloric acid with dissolved bits of zinc). Then the drill is wound a spiral of wire and a soldering iron again obshivaetsya. The only thing you should remember is not to allow drips of solder, so as not to disturb the centering of the drill. Now the "shirt" to hold it tight.
K. FILIPPOV
Recommend to read
HEAVY WILL BE EASIER
Universal hook for easy carrying of bulky household items is easy to do from suitable tubing such as a roll-away bed. Especially for heavy things need an assistant and a second hook....
MODELIST-KONSTRUKTOR 2003-11
IN THE ROOM: Public design office: E. Sorokin. Snowmobile first, but a successful one (2). Small-scale mechanization: I. Shevchenko. "Sweet" road train (7). Furniture with his own...