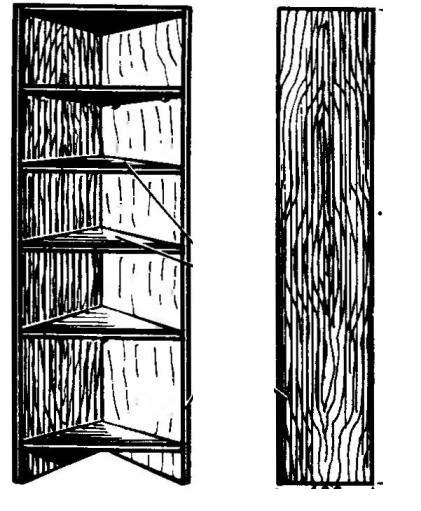 In a closed wall shelves and kitchen table-Cabinet to store awkward bulky utensils such as pots, pans, colanders, and modern means of mechanization: sokovarki, mixers, food processors. At the same time most of them have quite an aesthetic appearance, which is worthy to them are not hidden away from the eyes, but rather left in sight as a decorative elements. And another thing: in the kitchen there is always an angle, uncomfortable furniture. In a small area — is impermissible extravagance.
To eliminate the mentioned inconveniences and aims the proposal of the German magazine "Praktik" open corner Cabinet-shelves. (Cabinet dimensions approximate and can be adjusted.) On its shelves will comfortably accommodate all of that in other places only in the way; utensils will be on view and always at hand. To make such a case under any force, because its design is simple and the material is quite affordable — DSP.
You will need two panels of size 2000×400 and 2000×385 mm (for corner stands) and three panels in the size 385×385 mm (flange and cover).