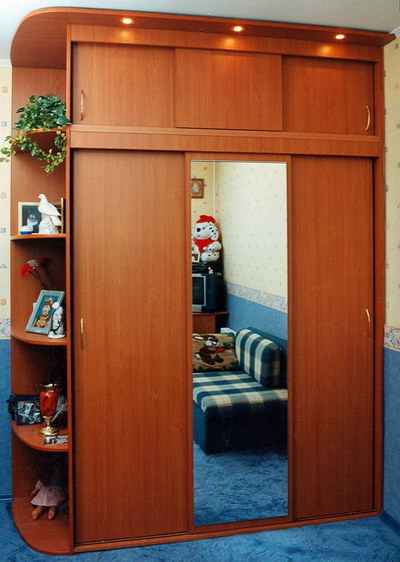 Early furniture has served its owners for quite some time, sometimes even several generations. But in our time it quickly becomes outdated morally — design or design. And then this furniture can be a field for experimentation and prudent master, and a novice homebrew. Here they can test their design and engineering skills, but also to give old furniture new life.This "old faithful" and I had — tricuspid wardrobe Cabinet with mezzanines. It panels the walls were made of "refined" particle Board, but the front side doors very solidly trimmed bright polished veneer.
However, the time has come, and the wardrobe gave way to new furniture, and he "moved" into the middle of a narrow hallway. While he stood in the corner of a large room, it seems to be anyone not hurt. But it turned out that this piece of furniture becomes a great obstacle: often happens so that as soon as someone in the household threw open his door to get the right thing, someone else in this moment was required urgently to pass from one room to another. Had to wait either one or the other to close the door for the passage, and then open it again.
The desire to modernize an old dresser to make a hinged wardrobe was before, but now it is desire just moved into a necessity.