I'm a longtime subscriber of your magazine, he was engaged in shipbuilding and automodelismo. In many everyday situations, helped me publish "rubric Club home of the masters".
When I was Cycling, very annoyed that it was impossible to train in the winter. Tried to ride on podsushenne tyres — but was also slippery.
Then came the idea to put on the tire spikes, such as on motorcycles for the winter Speedway (racing on ice). Spikes (for 36 pieces on each wheel) made of M6 screws with flat heads, leaving a length of threaded rod of about 7 mm with heads (diameter 16 mm each) soldered more pieces of lingerie from-tipped turning tools. Studs studs are inserted in the prepared holes in the tires on the outside and on the inside secured with nut thickness of 3 mm. To about spikes not damage the camera, put the gasket from the old tires removed from cord.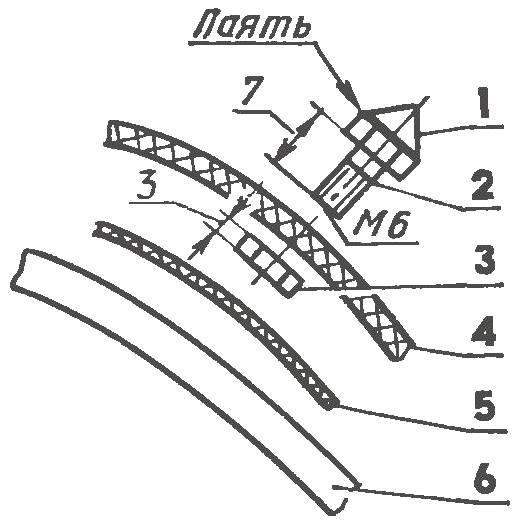 The installation of the studs:
1 — computers: brazed (a splinter from lathe cutter); 2 — spike (screw M6); 3 — nut M6 (s3); 4 — tire wheels; 5 — gasket (the tire without the cord); 6 — chamber of the wheel
To drivers not feared that I would slip behind the trunk was attached a sign-the sign of "Spikes".
A. SCHMIDT, Karaganda, Kazakhstan
Recommend to read
THE SECOND LIFE OF AEROSOLS
Cylinders from under the aerosol can be used repeatedly, if you apply a small improvement. This requires only valve from the tire of a racing bike... and a little ingenuity.   THE...
FUNNY WHEELCHAIR
Kids love to toy with them not only the room but also on the walk. Especially those that can haul on a rope or push with a thin stick. Moreover, dynamic toy when she has something...