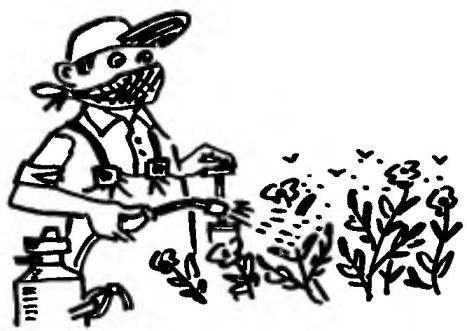 There are many different tools, devices, equipment, value of which is primarily determined practical purpose, and their appearance and technical aesthetics are of secondary importance. I think that applies to them and of garden sprayer machine, which sprayed pesticides against pests of plants. If you have at least a small locksmith skills, then make a sprayer you can own from a suitable container. The principle of operation and technical parameters (capacity, performance etc.) it differs little from those offered by industry.
For the manufacture of sprayer very suitable overage foam extinguisher. First, it is optimal for manual plant treatment capacity, and second, the alteration is negligible.
First of all, Unscrew the cap, release the fire extinguisher from the content, observing all precautions. After that, the cover itself dismantle the lever and the hole through which it ran stock, brew (if welding not, the hole can be riveted, cut thread and drown out the screw, fill with sealant, etc.). Inside cover insert the rubber gasket.
Further, from the neck of the housing of the fire extinguisher wrenched the nozzle, and in its place, resting on both sides of the rubber washer-gasket set valve motor from the camera (suitable from road tubeless tires). The outer pre-washer vygeboom along the radius of the shell of the extinguisher.
Then at the bottom of the cylinder, 10— 15 mm from the bottom, weld a pipe with a length of 50-60 mm and the inner diameter drilled hole in the wall of the fire extinguisher. The same operation can be done in reverse order: first, drill a hole, and then to this place to weld the pipe. In the absence of welding the branch pipe can be connected to the cylinder on the thread.