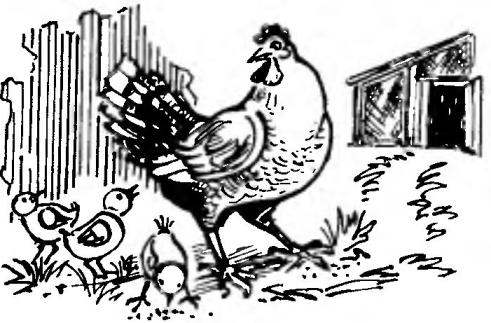 The materials in the yard to get the chickens, make incubator, posted a lot. A wide range of mechanical designs "hens" from cardboard boxes with obogrevatel-LEM table lamp until almost "factory incubation fuzzies" (" modelist-Konstruktor" № 2'73, 11 '92, 4'2000). But questions about where and how to keep Chicks until they grow into adult birds, illuminated enough. Finding often the response to them, each owner is forced to do everything himself.
In particular, the first week I kept brood incubator chickens at home in the usual cardboard box, the bottom of which was strewn with chopped hay meadow. And it turns out rightly so. Not as bedding use sawdust as fluffy birds can begin to peck them, and it threatens the clogging of the intestines and death of chickens.
No additional heaters at home maintenance Chicks need not apply. About the health of their Pets can be judged by their behavior. For example, if the chickens running around the box smartly, not slipping into a pile during wakefulness (they usually sleep together), then the temperature regime is optimal. But Kohl toformat wings and open beaks, so discomfort: chickens overheat.