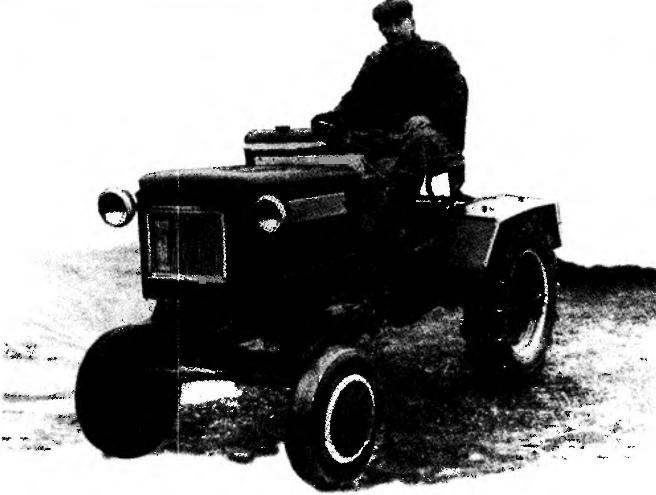 Log "modelist-Konstruktor" reading since 1982. Since I am an active supporter of technical creativity. Farmersto now, but before when I worked in the local newspaper, tried to the extent possible, to popularise technical creativity among the readers. First released the category "DIY" and then a thematic band "the masters Club". I have been publishing for Amateur construction, and in other publications — in the Republican youth newspaper "Leninets" in the Moscow newspaper "Gardeners", in the newspaper "Victory", in the journal "Farmer".
A farmer I began in 1991. And long-standing passion for design helped me a lot. Then I only had a three-wheeled mini-truck, the revamped production motorcycle "Tula" for only three days, a cargo trailer for it on 500 kg. So in the winter 1991/1992 year began to build a mini-tractor. They gathered it in the house, as outside, in the cold, with the metal work was impossible. By the spring of the tractor was ready and I got on it in the STS of the registration number and technical passport. To the tractor, I had time to build another truck with a lifting capacity of 1 ton, plow, Hiller, a two-row planter. And the first of his seed fully spent on makeshift equipment. Plowed hectares of land, planted potatoes, done inter-row cultivation. Moreover, transporting fuel, seeds, timber and so on.
When farmers started to give loans, I was able to get a tractor "Belarus" and some agricultural tools and units to him. However, only necessary to buy and failed. And again I can use the experience and technical creativity. Over the next few years I made all the machinery needed. Now in our farm work homemade morenovalley unit (it can be transported even on public roads), a single-axle tractor trailer 2 tons of cargo, four-row potato-planter and sprayer, mounted small crane with a lifting capacity of 1 ton, as well as the original planter, converted me from milling of the stump of vator through the rotary cultivator.