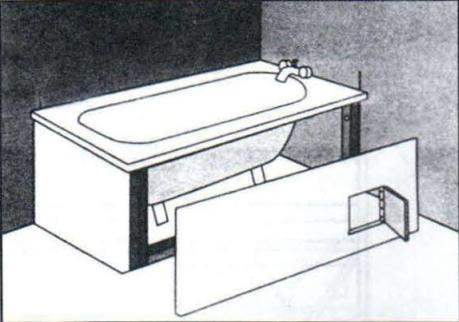 No matter how nicely it was not decorated the walls and floor of the bathroom – nice picture violates the gaping space beneath the bathtub itself, which is usually installed on legs or anything not covered. Not coincidentally, the industry recently began to put on sale a special panel device – the screen, which is mounted on the side of the bath making it like a single unit. Today, however, the baths themselves and their installation are not the same so that the design of the purchased screen is not always suitable in each case.
That's why interest is an affordable and versatile method of fabrication of the screen on their own directly to the features of your bath. It does not require any special tools (see Fig. 1), and the materials can come even available to you at home or on the construction markets. Basically it will be chipboard panels or moisture-resistant drywall and wood. And in order not to delay the manufacturing process – before you begin, make sure that you have all the necessary tools and materials.
FRAME
The screen panel is mounted on a frame of wooden bars 40×40 mm, located on the edges of the bath and attached to the walls. The pictures show the preparation for work in the case where the bath is located on the corner of the room, but this operation procedure is suitable for any plan.