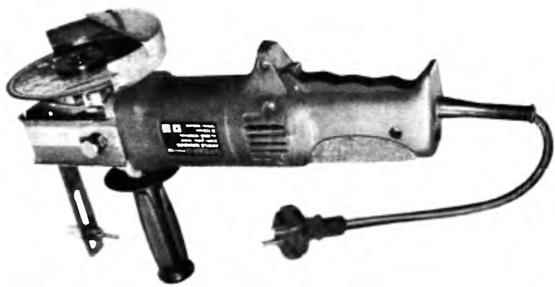 The device, which I have called "cappenberg", I constructed at the time when he decided to make an improvised wheels for walking tractor. Wheels with a diameter of 320 mm were cut using this tool.
With a small hand held cutting machine (popularly referred to as "Bulgarian") model GREAPO PG125SE, made her a simple, but reliable, and most importantly—the right fixture for cutting parts in the form of a circle of sheet metal or holes in it.
Design. The basis fixture is a console made of steel strip section 22×5 mm. In the console said "grinder", departing from the one end 6 mm, cut in the middle of the longitudinal through slot (oblong hole) with a width of 9.2 mm and a length of 150 mm. Near the other end drilled a couple of holes with a diameter of 4 mm rivets.
Further, from steel strip 25×2 mm cross-section is curved, P-shaped bracket, with the horns which are cut the same longitudinal through grooves (elongated holes) in the console, only shorter—length 35 mm. In the back of the bracket is also drilled two holes with a diameter of 4 mm that is made in the console. But it would be better if these pairs of drill holes simultaneously in the two joined parts. Apertures with the outer sides sensource After that, the details again are joined and connected by steel rivets with the heads made wpoty. As rivets, it is possible to use the usual right nails, cutting them to length.