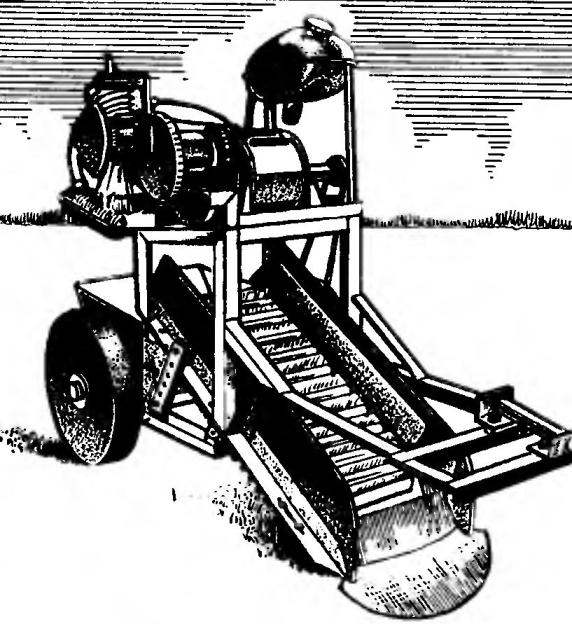 The design, which will be discussed, could be called a potato harvester as it consists of several relatively independent units. The potato is intended to be coupled primarily with a mini-tractor "Ocarinas", whose description is published in the "Modeller-designer" № 12 in 1996, But since it has a standalone engine, it can be paired with any truck, regardless of, he has a PTO or not. A horse harnessed! I think that the concept of my machine will be useful for other Amateur designers who create their own agricultural machinery.
A feature of the scheme is this. Moving behind a mini-tractor in the aisles, a trailer unit with its shovel-like blade raises borovok (row potato) and dissolve the tubers. They, along with earth and the remains of the fall foliage on the chain-rod conveyor of the Elevator. In other kartoffelkopf the tubers after going through the passing conveyor tray to the drum cleaner, the entrance to which they constantly accumulate, delaying the cleaning. In my own there is no drum cleaner — earth wakes up through the bars still on the conveyor, withered the tops of the big picture, and peeled tubers are in the storage hopper.
Combine simple constructive — there are a lot of components and parts from written-off agricultural aggregates, primarily from industrial potato digger, as well as technologically — for its production in the home Studio enough to have a hacksaw, drill and welding machine (turning works at a minimum).
The basis of the kinematics consists of three chain and one chain-transfer rod (with the use of roller chains and sprockets from mopeds, bicycles and agricultural equipment).
And now more about each of the main components.
Chief among them is the Elevator. It performs two functions: transport — moves and cleans potatoes — and carrier — mounted to its frame, the entire motor-gear unit. The Elevator is mounted asymmetrically relative to the wheel carriage. This is due to the peculiarity of the work of the tractor width gauge is usually more distance between Borovka, so one wheel of the tractor and the mast always go for the aisle and the other on removed field.