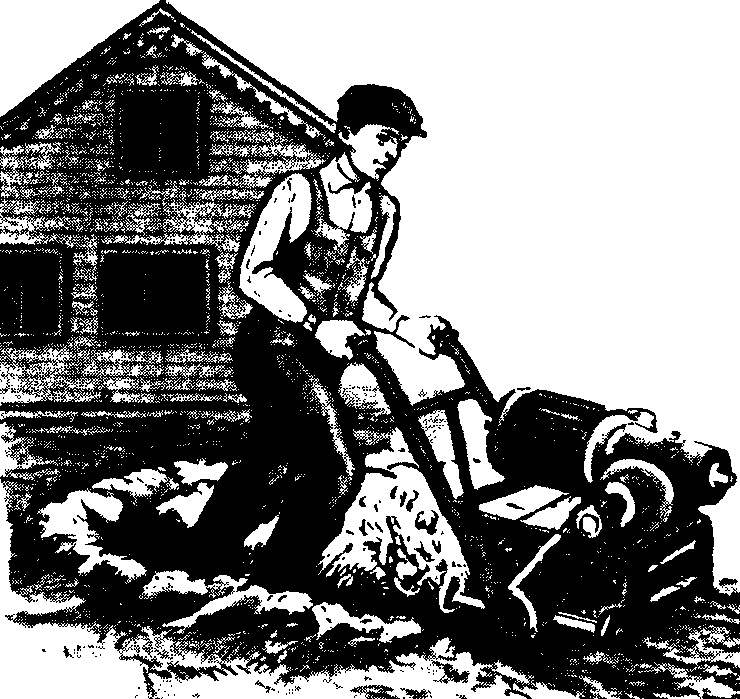 Electrofresh intended to work the land and garden plots, hilling potatoes. Especially given the tough operating conditions — long continuous work (up to 4 hours), the constant overload, dirt, preference was given to more heavy and oversized three-phase motor, totally enclosed, front manifold, DC.
Three-phase asynchronous motor works in the scheme of single-phase power capacitor (coupling star). The required capacity of condenser battery
CR=2800*Inom/Unom,
where Unom — voltage (nameplate) motor Inom — current (nameplate value).
The structure is based on the gear motor from the machine belaruskogo RM, having the feature:
Motor — asynchronous short-closed;
Power — 1 kW;
Voltage — 220 V;
Current — 4.2 A (three-phase);
Engine speed — 1410 rpm;
Efficiency — 0,79;
The number of revolutions of the output shaft — 44 rpm;
Gear ratio — 32;
The weight of the motor-reducer is 24.5 kg.
The basis of the layout of the mill laid the equilibrium condition in the working position with the aim of reducing the strain on the handles control. The gear motor rotates the cutter shaft through the chain transmission (step — 18,25 mm, number of links 52). The transmission can be used with I=1 or I=1,17, Z1=13(15); Z2=15. The speed of the cutter shaft is 44 or 38 rpm.
Motor-reducer mounted on the frame by means of two transverse dural plate thickness of 10 mm, which slip together with attached to them by geared motor, adjusting the chain tension.