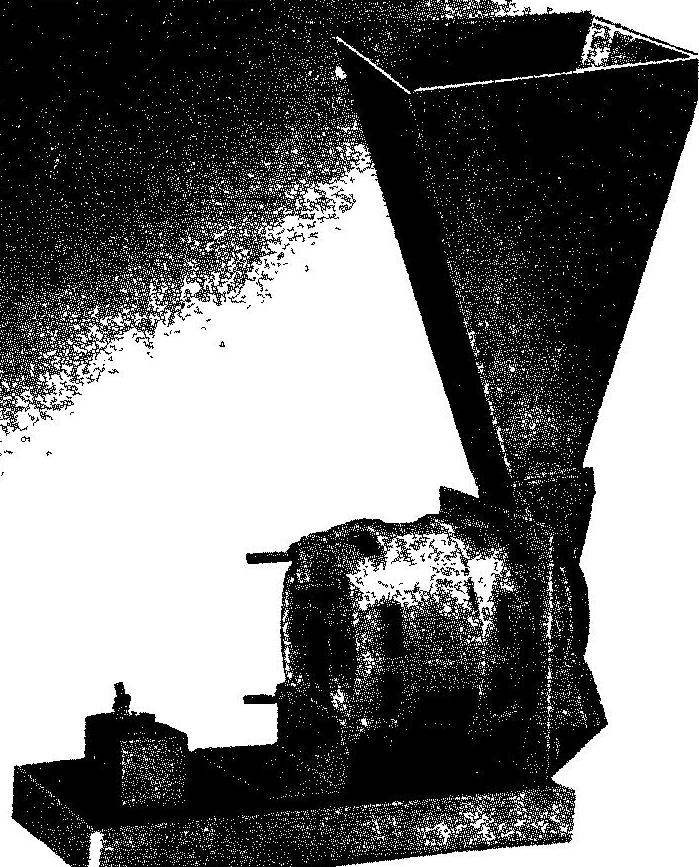 The proposed mini-mill was made a few years ago, eighth-grader Edward Sarkisov in the circle of technical creativity in school No. 17 in the city of Vladikavkaz. It is designed for crushing grain cereals and can be used on livestock farms, farms, HOMESTEAD animal husbandry.
The design of the mill so easy to manufacture, easy to replicate it not only in the workshops, but even adepts-to homebrew at home. It does not need to perform complex plumbing, turning, milling and welding works.
The development is made on the basis of the motor of the washing machine. The stator of the grinding mechanism is taken from a synchronizer sleeve of the gearbox of the car GAZ-53, which cut two Windows: the top and bottom of the input through output at a depth of 30 mm. Inside to the coupling welded to the guide plate, and the outside — two tabs for securing the cover Itself, the clutch is welded to the base plate, which made the hole for the motor shaft On the latter by means of pins fixed in the rotor that represents a hexagon.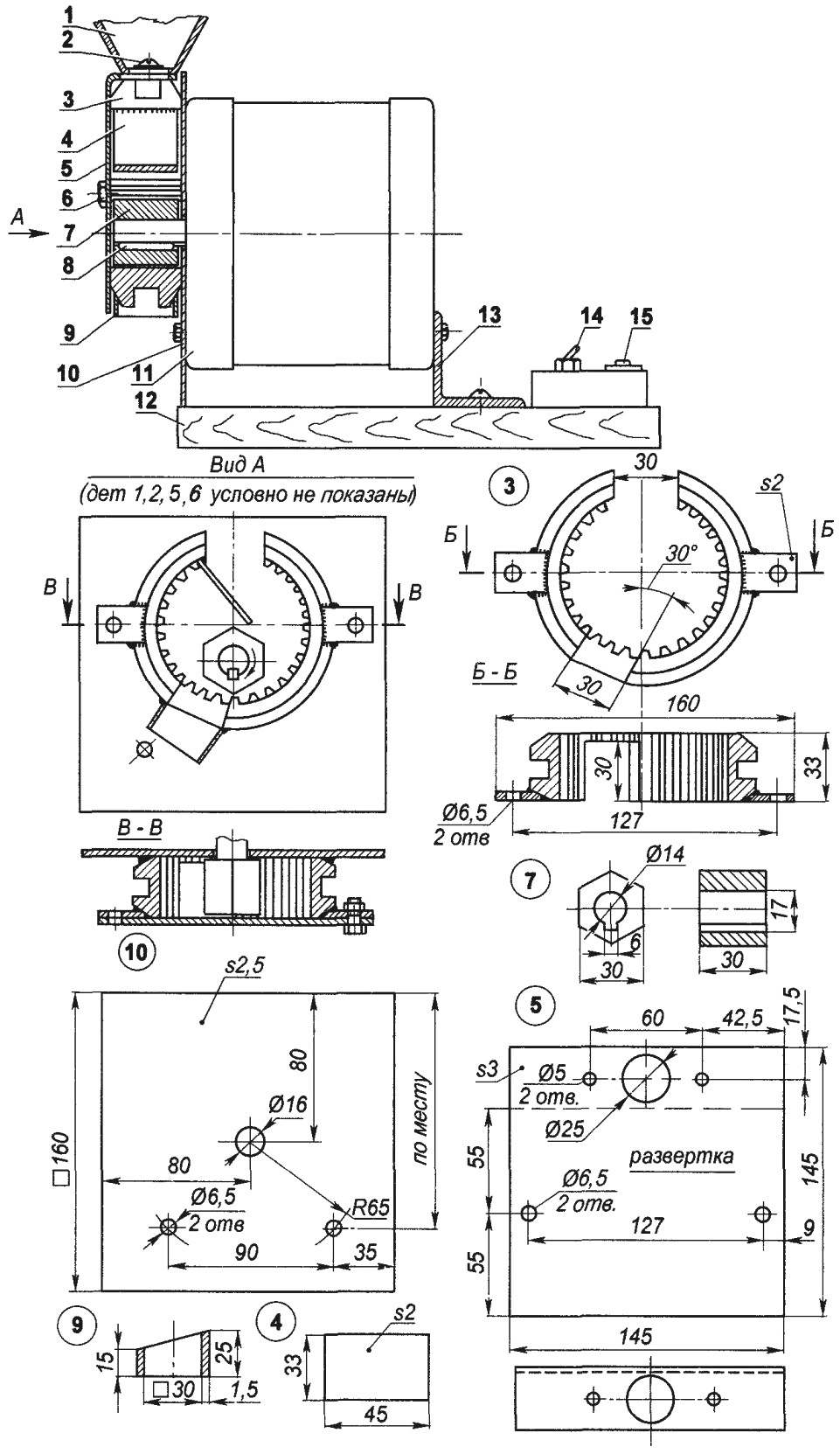 Mini-mill:
1 — hopper, 2 — screw mount hopper, 3 — stator; 4 — guide plate, 5 — cover of the stator; 6 bolt M6; 7 — rotor, 8

— dowel fastening of the rotor 9

— outlet; 10 — base plate, 11 — motor, 12 — the base of the mill; 13—area engine mounts, 14 — switch; 15 — button starting winding
The front plane of the clutch is closed by a lid which is secured with two M6 bolts. The input window is a hopper for grain, and welded pipe output for output of the crushed grain.
Please note: required minimum clearance between the tooth of the stator and the rotor. The stator must be welded to the base plate when you put on the motor shaft the rotor (and set on the basis of the motor).

The scheme of inclusion of the electric motor
The very Foundation runs out of the Board. Here are a rocker switch on the motor and the power button it starting winding working Principle mill elementary. Grain from the hopper is fed by gravity into the cavity of the stator, where it undergoes crushing faces of the rotor and the teeth of the stator, and is then supplied to the water outlet.
Do not turn off the engine when in the bunker and in the cavity of the stator there is unground grain and fill the grain hopper with broken motor
V. PILIPENKO, Vladikavkaz
Recommend to read
PENDULUM SAW
Talking about the Amateur designer E. Kulikov from the village of Bornukovo Nizhny Novgorod region, it should be noted that all of the units and mechanisms designed to facilitate the...
IN SUMMER THE AIRCAR IN THE WINTER — SNOWMOBILE
Built unusual car A. Kulakov from the village Kutulik Irkutsk region. Her body is aluminum; the front suspension from a cargo scooter "Vyatka", the rear of the scooter "Tula 200". A used...