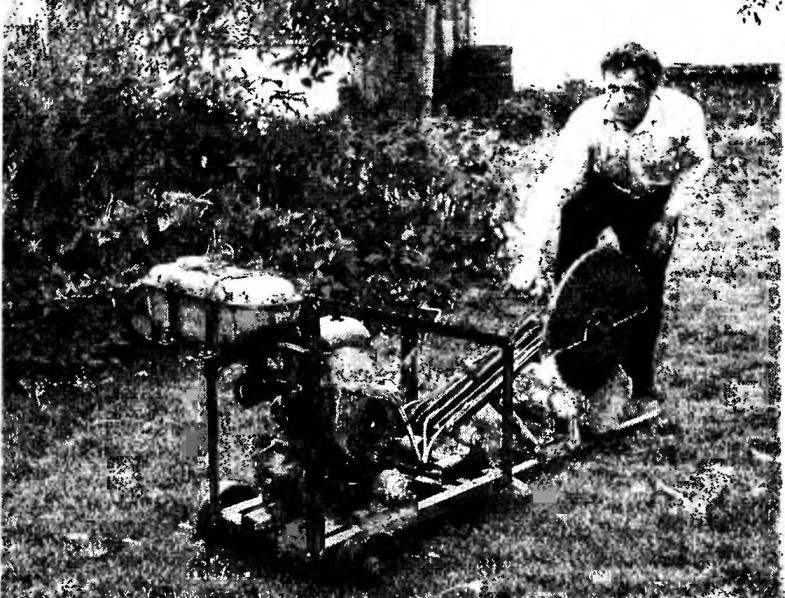 Talking about the Amateur designer E. Kulikov from the village of Bornukovo Nizhny Novgorod region, it should be noted that all of the units and mechanisms designed to facilitate the work and life of rural residents. Take one of the problems to be solved annually by villagers, and those living in most Russian towns, the firewood for the winter. Sawmilling "whips" on the wood stage in this process is the hardest and takes a lot of time and effort if cut manually. The same chainsaw is not all, and they are not cheap. That accounts for the villagers to cooperate using the same saw for a few yards at a time. Well, to chop the firewood is loose in the days of autumn or even winter.
E. Kulikov, assessing the situation, decided to make a semi-portable, circular saw of their own design. And fashioned. And further—a trick: run the motor — I only give a log under the saw blade — cut a single block of wood takes only a few seconds.
The saw consists of three main units: frame with engine and transmission units, a pendulum with a saw blade and drove with a foster frame.
As motor applied "of puskach" PD-8 from the tractor T-40 with a carb-TO-28G, a combined air filter and an improved muffler of the motorcycle "Voskhod". The motor reducer modified and deleted .the clutch drum. Under the flanges from the side of the clutch and an output gear mounted to the brackets of the plate for mounting the engine to the frame. There's also the air cooling system of the cylinder, borrowed from motorrollern engine T-200. Start PD-8 cord, is laid in the groove of the special pulley on the intermediate shaft. The engine is controlled by the lever "gas" type motorcycle hand brake or clutch, mounted on the arm of the pendulum.