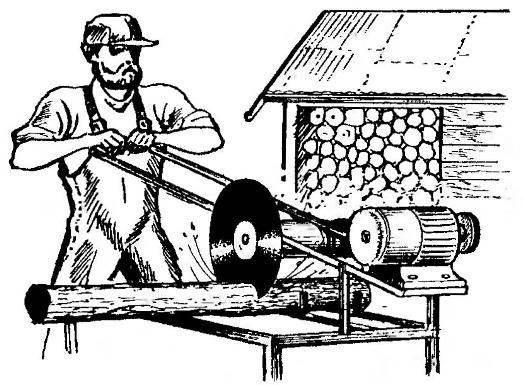 The proposed machine is designed primarily for disposal of dilapidated wooden buildings on the wood. Because of the many nails sticking out everywhere, this waste material can not afford a chainsaw "Friendship", and therefore worth a few pennies. Cheapness, of course, attracts. Stops other: than and how to cut this here, bristling with "raviel" a conglomeration of old boards, beams, logs?
Rescued unpretentious disk saw with self-sharpening teeth.
It consists of two electromotive and mechanical components: frame-base (with a protective visor-handle) and the frame-pendulum with a saw blade. Simplicity — the key to reliability. For more than 20 years of quite intensive use (in wood, in the dissolution of wood needed after all, and many of my friends, acquaintances, neighbors) have compact electrofilica not having any breakage!
Those who decide to make yourself such a reliable machine, not without interest, apparently, features of this design. Steel saw blade is symmetric, that is, with runprofile cutting teeth, each of which is as close in form to equilateral triangle. The recommended length of the cutting edge — 20 mm.