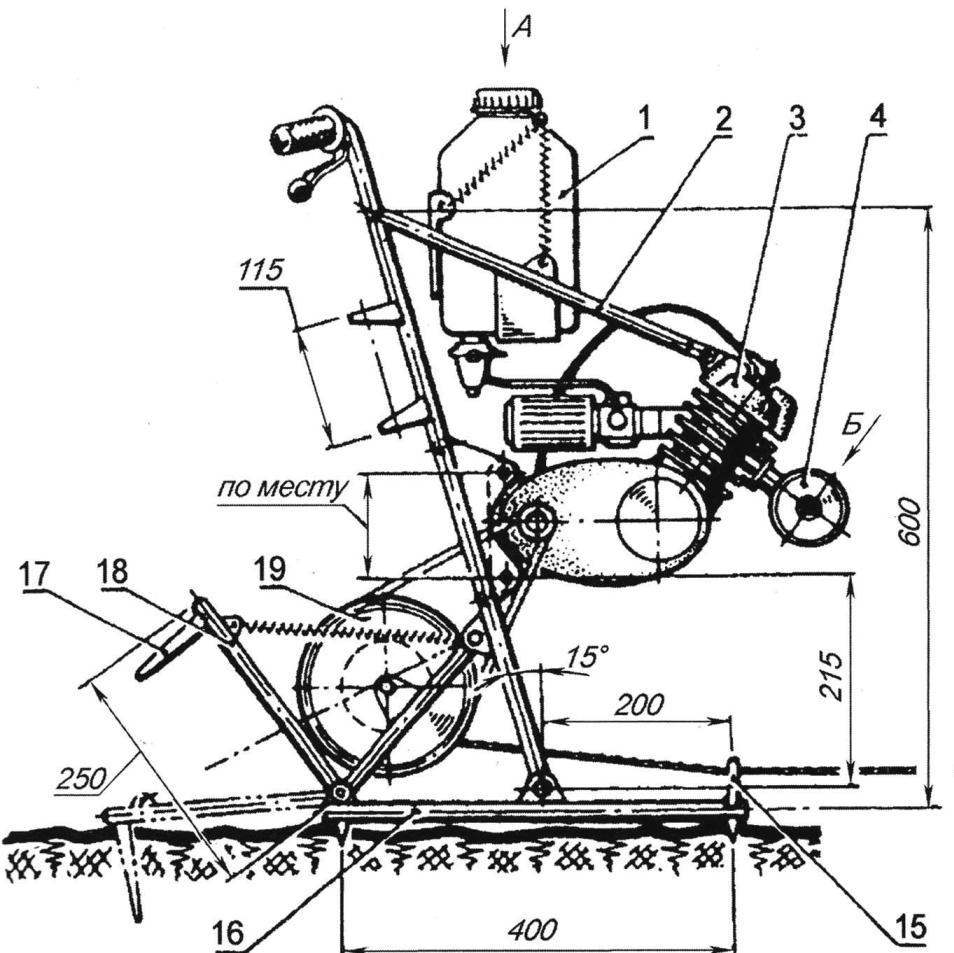 In this release, "M-K" we want to acquaint readers with one of the most effective tilling mechanisms, which has recently been gaining more and more popularity among Amateur designers. This motoliberty, the main advantage is that, unlike self-propelled tilling machines to create traction she uses all his power.
The basis of motoliberty developed by the Muscovite I. Sorokin, is the engine V-50 — at the time this engine power about 2 HP, equipped with "heavy" moped type "Riga" or "Karpaty" (and now a lot of stored in garages and sheds). The motor is installed on Motorama welded from lengths of steel pipes with a diameter of 30×2. 5 mm and sheet steel with a thickness of about 3 mm. from Top Motorama fixed wheel of a moped, on the bottom base area of the pipes of the drum and sprocket drive. Back on the supporting platform hinged anchor — P-shaped spring-assisted tubular frame with two welded to it with anchors from the steel tapered plates, similar to the blade of shovels.
As the drum winch used wheel hub moped (and fit the hub of any light motorcycle) is attached to dural cheek and sprocket driven — for example, a large gear wheel from a road bike.
If the gear ratio of the gear chain is insufficient, have to do driven sprockets with more teeth is best for this suitable sheet aluminum thickness 4 — 5 mm. to Calculate such a star is not too difficult. For this purpose the number of teeth of future stars (e.g., z = 80) is multiplied by 12.7 mm (step-chain), resulting in the length of the pitch circle (1016 mm). Next this value is divided by 3.14 (PI), and the result is the pitch diameter Dd = 323,6 mm).