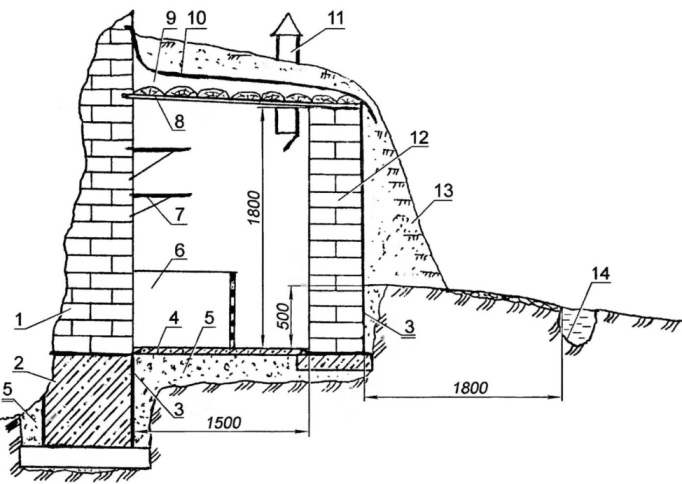 Despite the widespread use of electric refrigerators, such building, as a cellar, do not give up their positions. Especially in rural areas and in suburban areas, where in these, prudently organized, compact storage with a good waterproofing and skilfully chosen ventilation is still not forgotten to maintain the desired temperature and humidity conditions, and favorable conditions for savings products that do not rot and does not shrink, without losing its unique taste and smell. However, if used the most common was free-standing cellar, today in order to save area, many prefer the compact storage of vegetables, fruits and homemade food, is equipped with a summer kitchen, a barn, a garage…
In particular, I prefer polysilicones the Annex to the blank wall of the house. This so-called wall, totally safe storage (Fig.1). Its design is reminiscent of the popular option of an extension-greenhouses (see, for example, material published in No. 1 of 1998 of the journal "modelist-Konstruktor"). It is not surprising: the underlying parts in both cases are the wall of the house and a mini-pit. But there are significant differences.
In the greenhouse, as you know, there is a greenhouse effect, imposes its own limitations on many of the features of construction, starting with a transparent roof and ending with the profile of the trench. The same heated wall of the cellar is mainly due to the soil (deep) heat gained by the surface layers of the earth in summer (accumulation of soil solar energy) with the introduction of heat Supplement derived from the wall of the house. The temperature in this storage is maintained stable, since the thermal conductivity of the soil and wall is small. In winter, from the soil to the cellar comes the heat, in spring and summer cold, as the soil at this time has a lower temperature than the surrounding outside air.