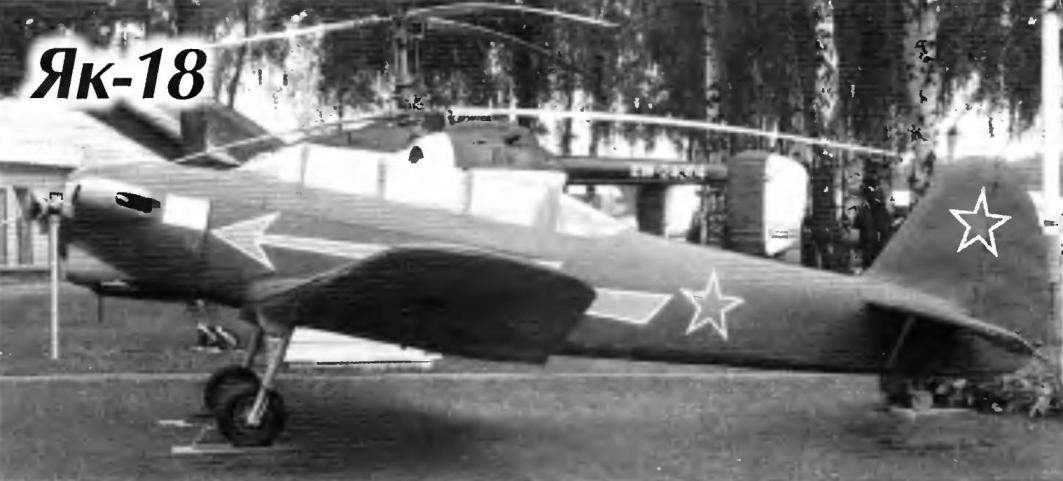 Initial training aircraft Yak-18 was based on UT-2. Its first flight took place on may 6, 1946 (test pilot G. S. Klimushkin), and the second, with the more powerful M-11FR — may 17, 1946, According to the results of state tests, the car was adopted, and in 1947 he launched into serial production in plants: № 272 in Leningrad, No. 135 in Kharkov and # 116 at Arsenyev.
The first modification of the Yak-18 became the prototype with a 190-horsepower engine M-12, in 1950, "rearranged" on a three-wheeled chassis with a nose support. In 1951 appeared the Yak-11 also Have the nose wheel, but with the engine M-11 FR. Famous training version of the aircraft — the Yak-18T, made in 1951 and differs from the Yak-18U only equipment.
Serial production of Yak-18U lasted from 1955 to 1957 and was completed after production of the 960 machines. In 1956 was released the Yak-18A with a 260-horsepower engine M-14P Then came the single aerobatic variants of the Yak-18P (125 built), Yak-18PM (released 25 copies), recognized as the best in the world Cup in 1966, and Yak-18ПС with tail wheel undercarriage.
Just released 7814 copies of the Yak-18 different versions of them 1796 in China.
Engine M-11FR 160 HP Wingspan is 10.6 m wing Area — 17 m2. The length of the plane — of 8.03 m. Takeoff weight of 1060 kg, the Maximum speed — 245 km/h service ceiling — 4000 m. the Range is 1095 km. Run-up/ run — 290/250 M.
Recommend to read
Yak-52M
In 2002, the air force developed tactical and technical requirements for the modernization of the Yak-52 training-Yak-52M for professional screening and initial flying training of future...
THE PERFECT BIPLANE
Carrier-based fighter Grumman F3F of the company. In the early 30-ies of the American company Grumman was the undisputed leader in the production of fighter biplanes for carrier-based...