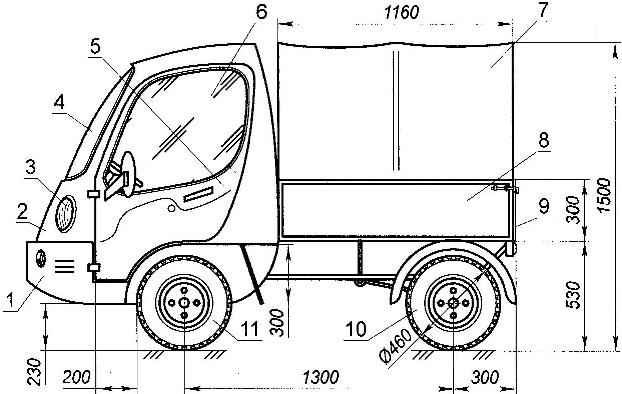 Sketch small motomobile truck, about which speech will go, I found in an old folder during the big tidy-bulkhead in garage archive. They are inspired by memories of the days when the passion for technical creativity: the production of self-made cars, boats, aircraft and various other structures have been possible to say mass.
The desire to design and build a mini-truck came and got me. By this time I already had experience of manufacture of snowmobile track (see "modelist-Konstruktor" No. 11 of 1991) and other equipment that I was building pretty quickly. However, this case came what is called thoroughly. Designed it slowly, studying the journals and books the experience of craftsmen and specialists, draw the layout, using large-scale silhouettes (front and side) of a man his height (170 cm) and aggregates available and expected to be used.
For the sample taken seen on TV truck motorickshaws, countless scurrying through the streets and roads in Indochina. As components mainly used decommissioned units and spare parts motorized scooter CPAS and "Ant" as the most affordable at the time, and the cheapest. Blind even large-scale plasticine (dummy) model of this truck. So gradually came to the so-called wagon layout scheme of a double four-wheeled light truck of a vehicle with the front leading and driven wheels.
Production of mini-motomobile started from the body, but rather with restoration of old, from scooter cargo "the Ant". The body is further reinforced welded steel gussets, setting them in the corners of the dock vertical and horizontal elements of the power set of the frame.