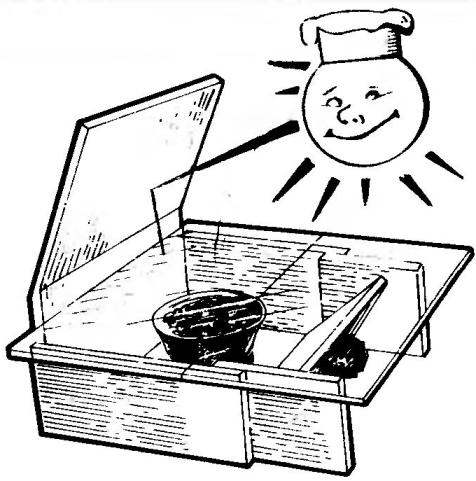 The picnic, which happened to be with friends, will be remembered not only by the abundance of impressions, positive EMOTIONS, but also the uniqueness of what and how food fueled its organizers. After all, improvised marching steam tables this time served… cardboard box from under the computer, pre-laminated on the inside with aluminum foil. And as unconventional source of energy has made itself the southern sun.
Of course, with the examples of concentration and use of helioenergy had the opportunity to meet everyone who in childhood did not catch any winsocki Sunny Bunny and not focused to a point the rays of the midday sun, burning, say, a tree their initials! Rummaging in memory, many will probably be able to recall and more vivid facts. In particular, secondary school curriculum, the end of XVIII century the leading French chemist A. Lavoisier created the first heliopath in which he heated some of the material to a temperature of 1600° C, in 1890, Professor V. Zeratsky carried out in Moscow smelting of metals (at 3000°C and more) the solar energy focused paraboloidal mirror, etc.
But it's in the distant past, while solving some important cases. And here — the prose of life: heating up food, moreover, in field conditions…
Solar steam tables — sample of practical use of the known from school of law of equal angles of incidence and reflection of light rays. As for the specific variant of the constructive embodiment of a steam tables, winningly simple, undoubtedly, admittedly seen by me at the picnic "hot" box (Fig.1). In fact it is an open cardboard box, reinforced liners-sides and glued from inside with aluminum foil (or a mirror polimernoi film). This coating of the working cavity has a high reflectivity.