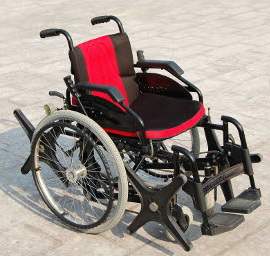 I think that it interests not only me, but many who because of injury, illness. or accident has lost the ability to move independently. Great care of us, the disabled, shows the state. A got a good apartment. All would be nothing if… not the stairs. For those who can't walk or hardly move, stairs are an insurmountable obstacle.
I live on the second floor. So my family forced on the hands to pass me in the yard, to the scooter.
I am not alone in this position. We can help out only one thing: a wheelchair, able to move along the stairs. But these do not yet exist. Now I have an idea to go through your journal for lovers-designers: "Invent and make, dear comrades, the wheelchair moving on the stairs!"
A. SCHERBININ, Feodosia
Recommend to read
THERMOMETERS WITHOUT MERCURY
For the guys from the club for young technicians Novosibirsk Akademgorodok has long been the rule: the work performed in the groups should be of a socially useful nature, contain...
SCHOOL OF AIRCRAFT (PART 3)
AIRPLANE FOR TWO. Most of aircraft fans, began his career in aviation with the construction of a single aircraft in the end come to the conclusion that such machines are extremely...