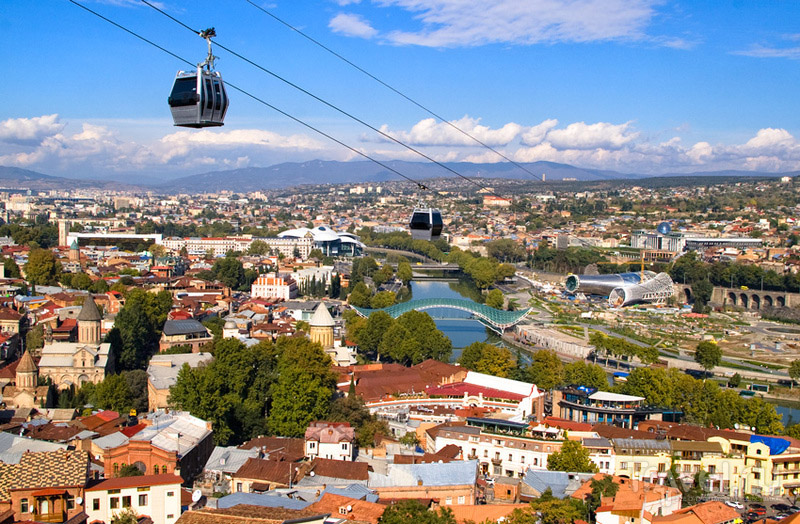 Georgia — the country is amazing, not just amazing, but, unfortunately, unfairly deprived of attention. Tourists in Tbilisi should visit the cable car, which immediately attracts attention, once you get into the city. Tourists often mistakenly call it a funicular. Cabin cable car will take you to one of the most popular viewpoints for a few minutes, and then you can get to the oldest landmarks of the city include the Narikala fortress.
Still nobody knows when erected a fortress. But it is believed that it began construction of the city itself. Narikala – the main symbol of the capital. In addition, each sovereign shop there are certainly a lot of details with the image of Stalin. According to sellers, the dictator loved by the inhabitants of the mountains, where he was born. Also on the figurines you can make good money. In particular, to buy Stalin, like Russian tourists. In General, modern architecture attracts the attention of any traveler. Not everyone knows that odd metal pipe is theatre. A pedestrian Peace bridge has long become a visiting card of the capital. The city was decorated with over the last 10 years, because the former President of Georgia Mikheil Saakashvili relied on tourists. If you leave the usual tourist routes, you can see more of Tbilisi. In the old courtyard, which locals call the Italian, still living people. However, the buildings are in terrible condition. But walking these courts do not become less interesting.
Tbilisi has one of the steepest funiculars in the world: the angle of inclination is 60 degrees, the length of the path is nearly a mile and crossed the distance in three minutes. But to get to it from the center, the solid darkness. The Council – just to take a taxi. Cable car in Tbilisi has a brand new Swiss carriages that carry tourists to the highest mountain. But you can climb even higher, because directly on the mountain there are observation wheel. Its height is 62 m.
Tbilisi also has a whole bath quarter in the city centre, which for several centuries. You will not guess that beneath these domes are located pools with unique sulphuric water. According to the owner, water is useful for sciatica, rheumatism, of skin.
S. ROMANOV
Recommend to read
The formation of the E5
After exit 2 "M-K" for the year 1991, we managed to get acquainted with information materials on the development of the self-similar class E5 in the international arena. Of course,...
PACKAGE-TUBE
Recently, widespread ready-to-use putty marketed in plastic packages. Unfortunately, the use of such a package is not very handy: cut a hole in it with pressure on the pack often...