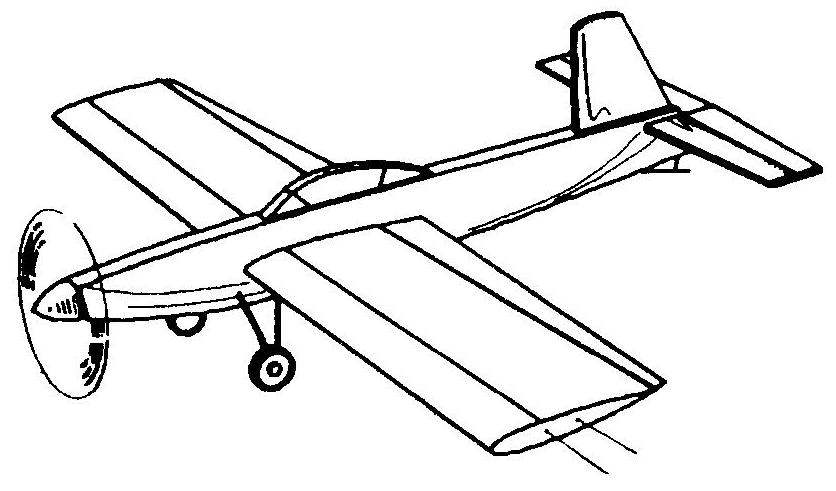 Young conovici-only pilots rarely taken for the creation of highly complex models. Basically they design a simple and feasible model of universal definition, which are equally suitable for testing of flight control avionics complex, and for competitions. We must remember that half of success on the performances of only pilots — the run-in, reliable motor. More suited KMD-2,5 and MDS-MDS or a 3.5-4 in export performance. It is simple, technological and, most importantly, "volatile" model — is proposed for the attention of young korovikov. Pilotage designed based on the available materials instead of lime for many parts, you can use high quality blanks from aspen, alder or poplar.
Manufacturer model starts with the forward fuselage. It is important to accurately lay out and have a good handle niche engine mounts and holes for the power elements of the wing — spars and the shelf front edge. The surface of the motor facing inside the circle, enhanced by a shaped plate made of plywood with thickness 1,2 …1,5 mm. Under foot the engine mounts glued beech blocks, the shape and dimensions of which provide Vegas the axis of the engine and the clearance between the bottom of the sump and the plywood lining. For mounting the engine in the prepared holes are inserted epoxy resin or four hairpin MZ. Beam of the fuselage is formed with the edging strips and plates from the packing foam, docked to the bow. In the tail section is glued the lug with the cutout for the stabilizer. The assembled fuselage is cleaned with fine sandpaper and fitted by a thin writing paper on diluted with water (ratio 1:1) PVA glue. In this paper consistently rolled up to the plane of the Board from nose to tail. The overlap of paper on the wooden part of the fuselage — no more than 7…10 mm. Drying the paper should be uniform, otherwise the beam will be warped.
The next stage is Assembly of the wing. It has a classic case diagram that provides a lightweight design and familiar to many assemblage. Ribs and noses are cut from 1 mm plywood or 2 mm veneer, processing them is in the pack. On finished parts to reduce weight provided openings.