Anyone who has ever seen race speed RC boat, certainly will remember the "aerobatics" microcameras that they performed by teams of "pilots".Requirements for such models. Without their accurate implementation is impossible to create a modern first-class equipment. To a large extent propulsion and manoeuvring properties of microcameras depend, in particular, of the total weight of the structure. Significant share of it is the weight of the body. A good solution to build the lightest boat without the use of a short supply of balsa with a minimum of fiberglass and epoxy resin, is proposed and successfully implemented the master of sports Vyacheslav Baryshevym. Speaking out of the competition at the open championship of Moldova, he was far ahead of its rivals.
Housing microcamera, designed on the basis of aircraft load-bearing sandwich monokoko, has a number of advantages even before the widespread modern Celestica – or carbon-fiber. It has high rigidity and that is extremely important for advanced well suppresses noise. The technology of its vyklicky is so versatile that allows you to create the same case for boats with internal combustion engines (class rbns) and for models with electric motors (class of BSE). But for the last is especially important every gram of weight saving — the lighter design, the more batteries will be able to place on the Board, and the faster it will run microcode.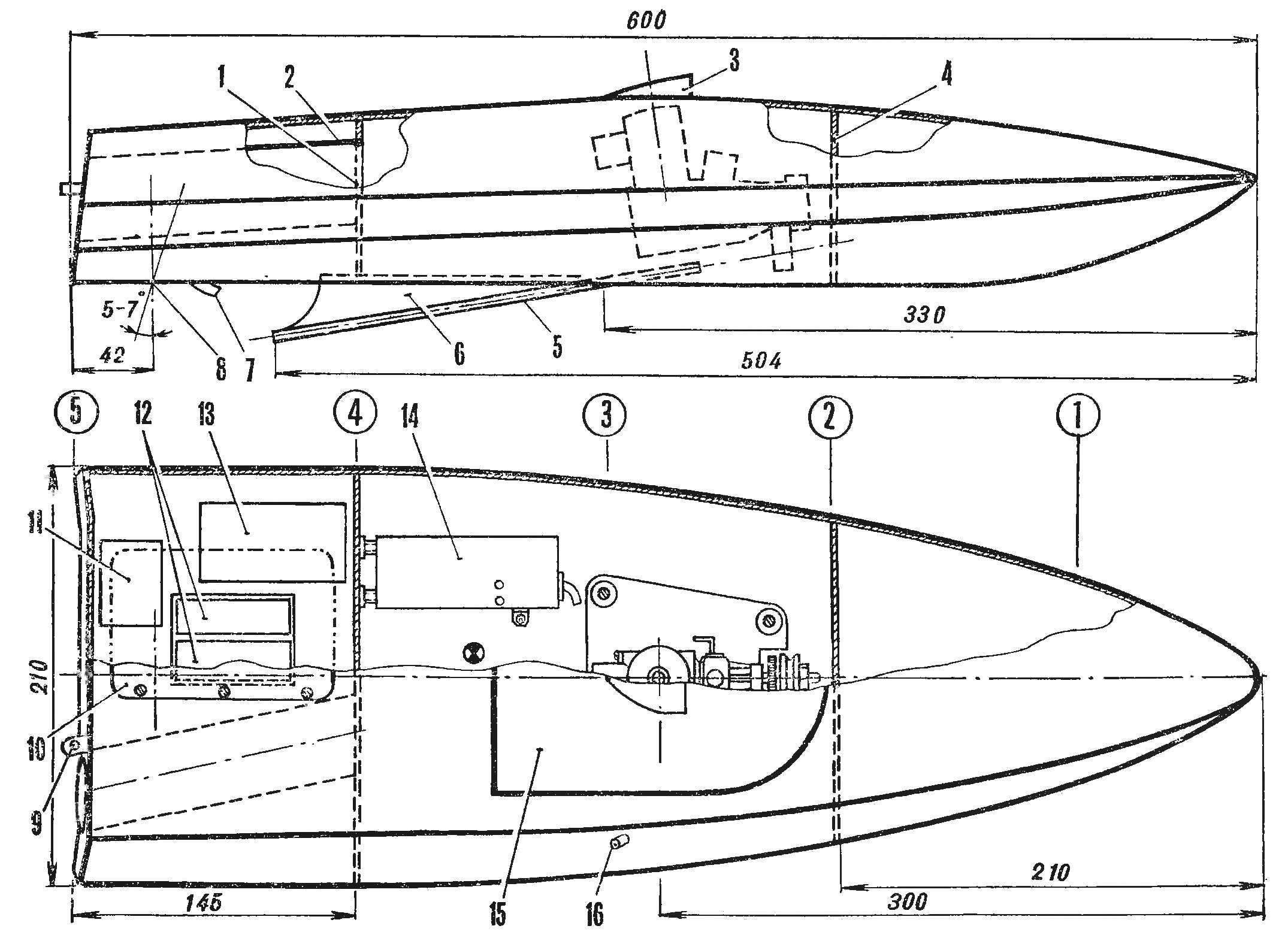 RC sudomodel with the engine working volume of 2.5 cm3:
1 — front frame. 2 — channel muffler, 3 — intake and Suha 4 — bow frame. 5 — deadwood, 6 — Klondike solitaire mounting deadwood. 7 — tube d 3 mm water intake for engine cooling. 8 — point output Bal-
Lera, 9 — the mounting bracket of the muffler 10 to cover radio equipment 11 — battery 12 — servos, 13 — priemniy, 14 — fuel tank 15 — engine compartment lid, 16 — tube water outlet engine coolant. The muffler and the propeller is conventionally not shown.
The manufacturing technology of the hull resembles a conventional method of forming the matrix. Carefully perform the blank on the exact contours of the future microcamera, removed from it a fiberglass "mold" is a matrix where after finishing the preparatory and finishing works and wikiepedia case.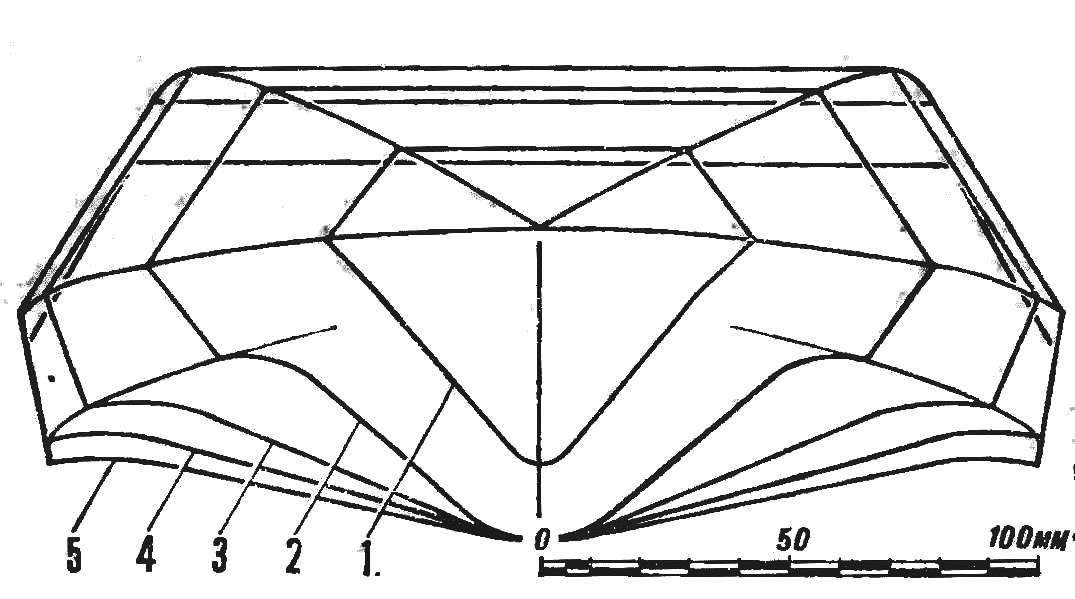 Proektsiya "Body"
The work begins with coating the surface of matrix thin separating layer, then applied a layer of epoxy resin, pigmented artist oil paints. The introduction of oil paint is useful for the plasticization of the resin and allows to obtain a painted casing, resistant to fuel components and to mechanical damage. To the not yet hardened layer must be lapped annealed fiberglass 0.2 mm thickness, pre-impregnated with the same binder composition.