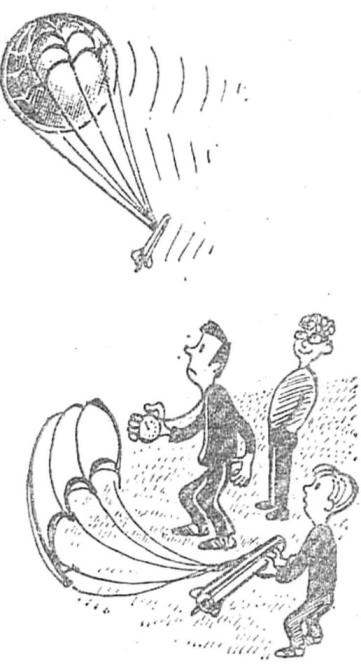 Today we want to introduce readers passionate about rocket modeling, with interesting design, developed and applied with success in competitions Czechoslovak athlete Joseph Rihoy. In 1983, the model helped him to achieve high results: in the championship of Czechoslovakia, he was a silver medalist, to become the first it was allowed only an unfortunate accident — the parachute didn't open in the last round, it happened because of moisture on the dome at the last landing in the wet grass. It should be noted that the champion of the competition used the model of such a scheme.
A characteristic feature of this microsociety is to use a special adapter that allows you to install rocket engines reduced diameter (piercing). Without adapter on model is easily mounted engines of the classical type.
The missile body is made of four layers of thin gummed paper, similar to a thin cable. Diameter metal mandrel for attaching the housing of 17.8 mm. the Last two layers of paper after gluing prokleivayutsya hot iron. After they are completely dry body, vyskazyvat and triple-coated with a liquid napolcom. After drying, it is trimmed to the length of the waste is cut off the ring with a length of 5 mm for more precise manufacturing of the head fairing. Finished case again processed with fine abrasive paper, coated with a thin layer of glossy nitro lacquer and once again polished.
Fairing cut on the machine from balsa and light ply. Bore diameter is processed exactly according to paper checklists ringlet. Wyszkolenia fairing is finished in the same sequence and with the same compositions as the body, only it is necessary to remember about the mandatory treatments the skin in the intervals between all coatings.