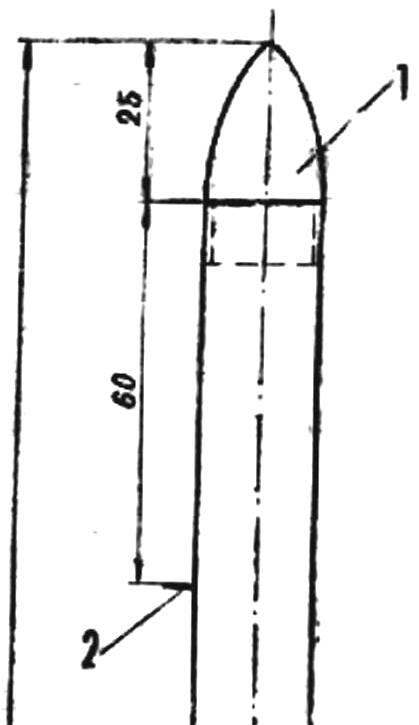 Constructed this model of the Bulgarian athlete G. Lalev — European champion in class S-3-A 1979. The case is made from one layer of paper on the mandrel Ø 17 mm, and then covered with a thin aluminum foil. At the bottom of the fixed magazine of the Linden under the engine. Guide rings are bent from copper wire Ø 0.5 mm and glued to the hull with epoxy. Stabilizers cut from the balsa plate with a thickness of 0.5 mm and covered with aluminum foil. They are attached to the body butt on the epoxy. Fairing the balsa. The dome of a parachute with a diameter of 500 mm are cut from the Mylar film. Weight of model without motor — 10

Model missiles S-3-A:
1

— fairing, 2

— guide ring, 3

— body, 4

— stabilizer, 5

— yoke.
V. SEMENOV
Recommend to read
"ARROW", DID NOT MEET EXPECTATIONS
Shortly after the end of the great Patriotic war in the Soviet Union began to receive numerous captured documents and samples of military equipment. Among them, in a single instance did...
MATCHBOX "ELEVATOR"
Matches... How many times we use them for the day! To do this, constantly having to open and close the drawer or get them off the shelf — they are thrown on the table — the baby was right...