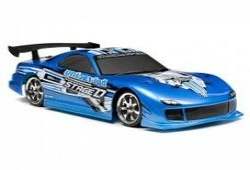 Despite market saturation, radio-controlled car and their simplistic and relatively cheap likes — RC avtokraski, EN-route kits are all also attract the attention of fans of sports automodelisme. I must say that the model market offers a lot of interesting tracks for: here and small motors with samarium-cobalt magnets that develop a power of 100 watts, and painted the inside of the one-piece shell-the housing of Iksanova film, and even finished chassis of various designs. However, the desire to make a completely homemade design is truly indestructible. The more that the advantages of such models include their relative simplicity, speed of production, and with the use of very simple equipment — literally "on the knee".
The main problem with the development of the trace model is the creation of reliable, powerful and lightweight power plant. Now on sale there are a lot of motors, including high-rpm "Mabuchi" and "Miura", but to guide modelers of the tracks on these elite motors would be wrong. Because the trace modeling — a passion for massive, available to modelers middling and prosperity. For them and fit cheap domestic DK-5-19. I have to say that carefully executed model with this engine is not far behind on the track from the models with heavy duty "Japanese."
A characteristic feature of the trace copies of the "Mazda" is a spatial frame made of fiberglass foil with a thickness of about 0.8 mm — lightweight, durable and technologically advanced material. It is created by the method developed at the Moscow auto-modeller-Transavia I. Nikolaychuk.