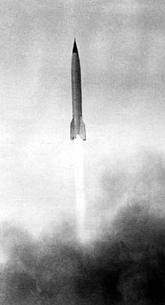 Model-a copy of the ballistic missile R-2
In 1951, took arms ballistic missile R-2 (product 8Ж38), created under the leadership of S. P. Korolev. Its performance characteristics were: missile launch weight of 20 to 300 kg, the maximum flight range is 576 km, mass of warhead – more than 1000 kg. R-2 to improve accuracy in lateral direction had a system of the frequency control with two antennas on the body, weight an untucked missiles – 4430 kg.
Compared with the predecessor, the engine of the R-2 (designer V. P. Glushko) had more thrust, the head part was detachable, the fuel tank was structurally sound instrument compartment moved to the lower part of the body. The rocket had control surfaces with only two stabilizers located diametrically. In the course of further work R-2 became the basis for the development of modifications for scientific research.
Rocket R-2 same as R-1, it is simple to copy. So a model copy of the R-1 was performed Yegor Krylov (class 4), and R-2 – a fifth grader Vitaly Pies. Both are rakotondravony second year. For making-models R-2 fit the same mandrel as for R-1, except for the bow – it needs to be longer. And the scale of the reduction of both models one 1:25. According to our idea, and all the remaining copies of the proposed series of models are the same scale.
It makes sense to remind that the work on the model-copy of always have to start with the selection of documents for this prototype books, drawings and photos. However, today such information a lot.
Practical work begins with vyklicky ogive of the elements of the case – top and bottom. Made of papier-mache. Mandrel pre-heated and lightly grease separation paste ("Edelvika"). After cooling, the sticker should be "petals". Practice shows that for strong (hard) the item should be pasted in the order of 8-9 layers. The maximum width of the "petals" in this case would be about 22 – 23 mm. Cut them out of paper density 80 g/m2 and a thickness of 0.13 mm. Here it is necessary to take into account the direction of the fibers in the paper. The largest size (length) placed along the fiber. To determine their direction quite easily. It is necessary to take two of the same piece of paper (about 5-8 cm) and fold them in different directions. In one case, fold uneven, broken – so the fold is across the grain. If the line of the bend smooth, without kinks, then fold along the fibers.