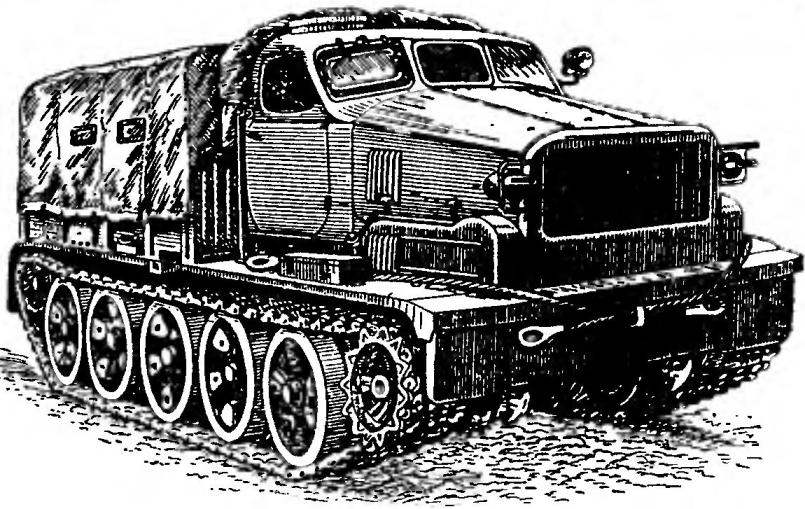 The designers of the Department of track-laying tractors (known as the Department of "200") of the Kharkiv locomotive plant them. The Komintern (KhPZ) built in 1936 heavy artillery tractor "Voroshilovets" on the basis of the original, but irrational in the scheme, laborious to manufacture and maintain chassis. Later, in the design process of the T-34, they came to the conclusion that because of the proximity of the traction-weights, power, and mobility it is advisable to develop heavy trucks based on the chassis of a modern medium tanks. This unification was beneficial and production.
So, proven reliable chassis with the supporting rollers of large diameter, with individual suspension, wide tracks crawler chains have transformed the appearance of the following heavy artillery tractor at-42, technical project which was approved in August 1940. Having the engine (diesel type b-2 with a claimed 500 HP), transmission and chassis from T-34, with a curb weight of 17 g and a carrying capacity of 3 t, he had to develop a thrust of 15 tons and maximum speed is 33 km/h In 1941, the Kharkiv locomotive plant was built prototypes of the at-42, but the tests turned them due to evacuation of the tank plant in Nizhny Tagil, and the production base of the Department of "200" in Rubtsovsk.
Due to the poor lend-lease import "Allis-Chalmers" M-6 army had an acute need for a new heavy crawler tractors. However, their production during the war could begin. Came back to this problem at the end of the war, when improved production situation at the plant number 183 in Nizhny Tagil.
In early 1944 there was created a new heavy tractor at-45, also on the basis of the T-34, with a broad unification with him on the main units and knots. Its own mass of 19 tons and with a load of 6 t he could tow the artillery system weighing up to 22 tons Derated (350 HP) tank engine type In-2 allowed to reach the speed of 35 km/h with a power reserve of 720 km the Machine has successfully overcome the slope of 30°, Ford up to 1.5 m, and the specific ground pressure was only 0.68 kg/cm2. The winch had a towing capacity of up to 27 tonnes.
By the summer of 1944 at the Kharkiv plant of transport engineering (HZTM), rebuilt on the place of CPF, has built six (some say eight) of prototypes of the at-45, two of which were sent for verification to the front, and the other for testing Nicholoson, gbtu KA in the Moscow suburb of Kubinka. However, in August 1944 in connection with the difficulties in mastering the new T-44 ("136") work on the at-45 has been discontinued. Two new machines returned from evacuation production could not overpower to the same base tractor (T-34) is obsolete and it was removed from production.